Ruby Tuesday, Inc., which owns and operates 596 casual dining restaurants, went private following an acquisition by NRD Capital in December 2017, and hired a new CEO Ray Blanchette in January 2018 to embark on a turnaround strategy. With these big changes well under way, Ruby Tuesday might be ripe for a creative assessment.
With more than 25 years of industry experience, Blanchette is no stranger to the bar-and-grill scene. His CV includes leadership roles with TGI Friday's; the Ignite Restaurant Group where he reinvigorated Joe's Crab Shack; and most recently, Au Bon Pain. He said the turnaround strategy will focus on introducing new, innovative products—without alienating the core Ruby Tuesday clientele.
But Ruby Tuesday continues to face a significant headwind. While consumers are spending more money on eating out, casual dining restaurant chains are falling out of favor with American consumers. Casual restaurant chains like Ruby Tuesday, Chili's and Applebee's are finding themselves in the middle—getting squeezed by fast casual chains (e.g., Chipotle and Panera), fine dining restaurants and inexpensive fast food chains.
According to the Helixa's interest and affinity data, Ruby Tuesday's core consumers are predominantly female (64%) between the ages of 45-69 years old (65%). To jump start its growth strategy, Ruby Tuesday needs to attract and grow the Millennial generation. But how? That's where Helixa's psychographic and interest data can help.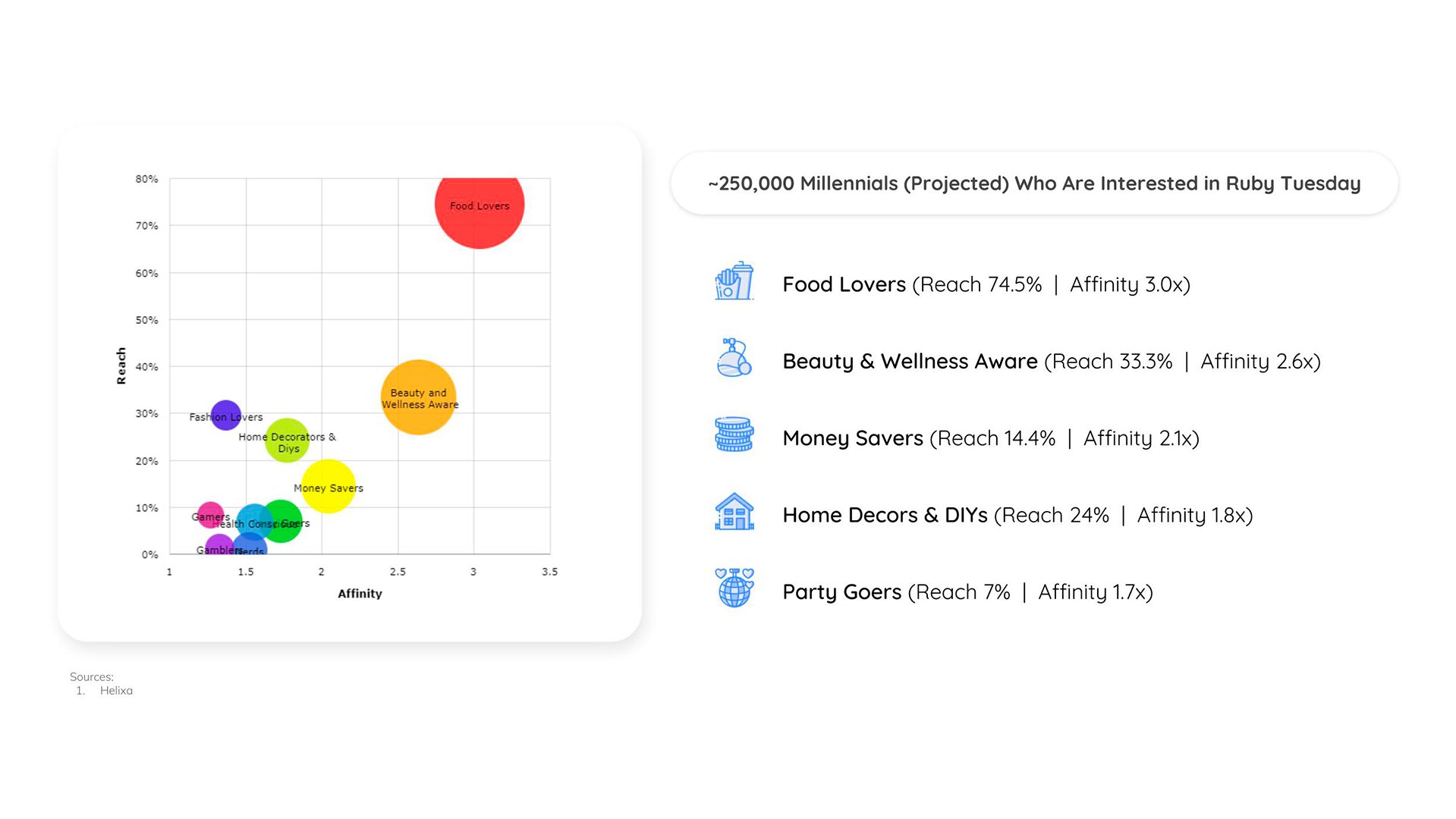 To help you prepare for this impending Ruby Tuesday pitch, this brief provides:
In-depth overview of Ruby Tuesday, its financials and competitive landscape;

Emerging consumer trends in the chain restaurant industry;

Detailed profile of Ruby Tuesday's core consumers;

A sidebar analysis of Rachel Dratch, Ruby Tuesday's celebrity spokeswoman; and

Analysis of psychographic and interest data for Ruby Tuesday's Millennial segment.


Want to come up with a differentiated strategy to grow the Millennial segment for Ruby Tuesday using big data?
Download the full brief enter your Email below.