The North Face is a brand that celebrates exploration with high-quality jackets, apparel, footwear, accessories, bags, and camping equipment. But this is not your average outdoor clothing company. In the last 50 years, The North Face has fostered a tribe that both loves exploring the great outdoors and wants to look fashionable while doing it.
The North Face Jacket: It's a Lifestyle
The North Face jacket is more than a jacket; it represents a lifestyle. The branding and products make you feel stylish and athletic, like the athletes featured in their ads. According to Dean Cook, head of menswear buying at Browns in London, the brand is special because "It's the most accessible lifestyle brand in the market. Everyone can wear it, but they can make it their own. There aren't many brands that can do that." The North Face serves many audiences, from extreme athletes to city slickers. Their audiences are vast and varied, and the brand wants to understand "who they are, what they need, and what the best way for [them] to empower and enable them."
(Source: The Cut, 2018)
Where Luxury Meets the Great Outdoors: The North Face x Gucci
Collaborations between seemingly different brands, such as Fortnite x Balenciaga, are not new. These unexpected collaborations work well with the influence of pop culture and influencers on social media creating a buzz. A lyric in a song by The Notorious B.I.G.'s "Dead Wrong" mentions both brands in the verse "​​Take her Gucci bag and the North Face off her back." which must've resonated with both brands and influenced a very successful collaboration in 2020.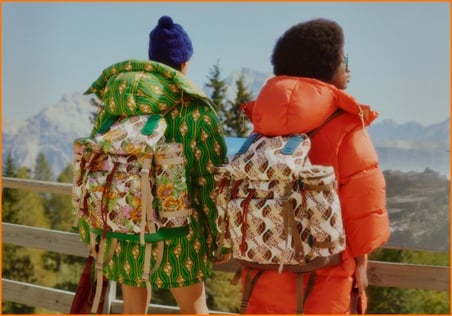 (Source: Elle, 2021)
The first collaboration came at the perfect moment in the pandemic where consumers were looking for escapism in nature, travel, and luxury. In December 2021, Gucci unveiled the second collection in a surprise drop, which put customers in a frenzy. These two brands were an unlikely pair, but surprisingly, a match made in heaven.
The North Face Audience
So who's in The North Face's tribe? Helixa's audience insights platform showed us that the majority of The North Face's audience is male, ages 18 to 24, and makes an income over $100K. Geographically, this audience can be found in cities near major mountain ranges and outdoor sports, which makes sense for this brand.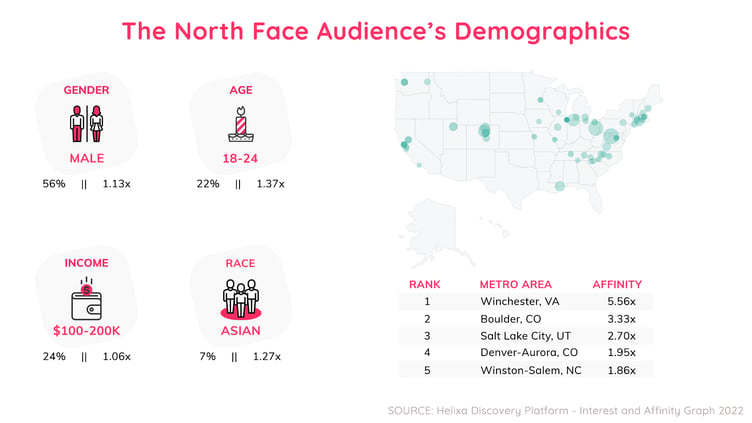 Psychographics paint a more detailed picture of your audience because they reveal lifestyles, personalities, and opinions. This audiences' top five lifestyles include outdoor enthusiasts, sporty stylists, thoughtful eaters, trendy, and addicted to sports.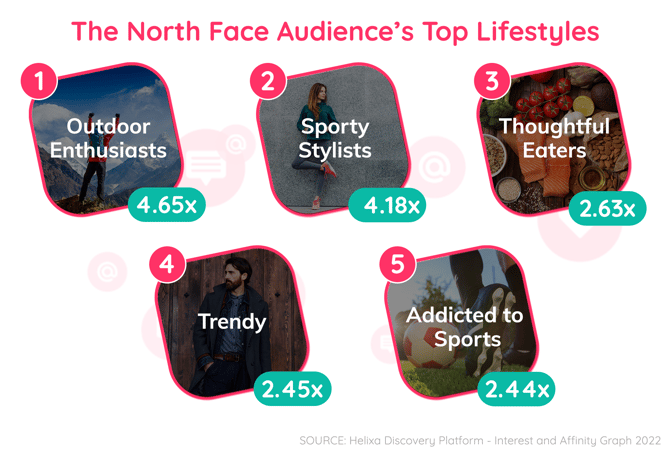 It's safe to say that The North Face's audience loves fashion almost as much as they love the outdoors. So what fashion and shopping lifestyles does this audience fall into? Well, they are twice as likely to be Accessories Addicted, Swayable Shopaholics, and fans of Personal Style.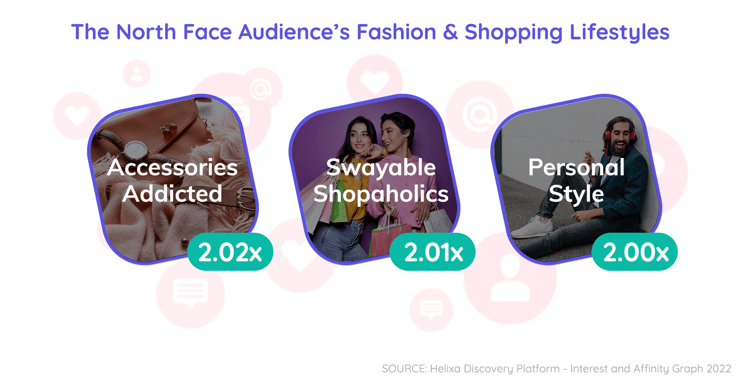 But do these audiences value luxury fashion? Using Helixa's Global Audience View (our fusion product with GWI) uncovered the top luxury fashion brands this audience engages with the most.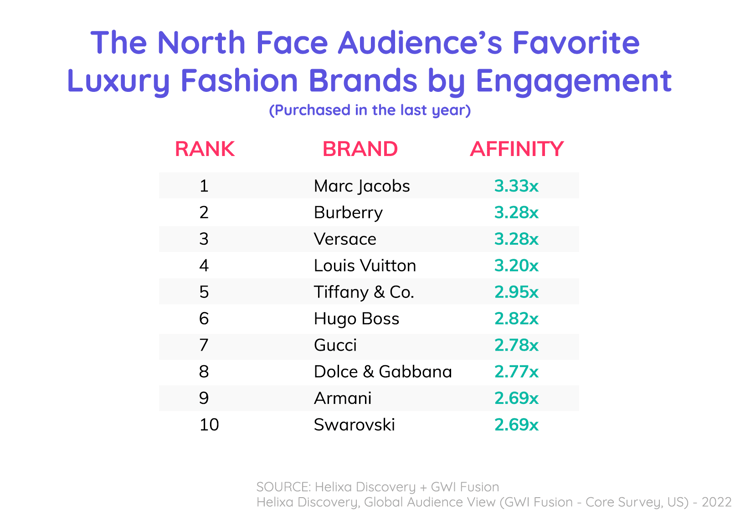 Surprisingly Gucci wasn't higher in this list, but it looks like The North Face audience would love to see other luxury collaborations. Maybe The North Face x Burberry next?
What's next for The North Face?
The North Face has established itself as a heritage brand and is definitely here to stay. Their high-quality products have stood the test of time, and the brand is still continuing to innovate with new designs and collaborations. After 50 years in the game, The North Face vintage products dominate the resale market while their new products take on the luxury market. This brand can reach so many different audiences because they specifically think about their communities and approach their customers with research and innovation to understand their needs.

Looking to learn more about your audiences? At Helixa, we use audience intelligence to help our clients look beyond their current audience and find new pathways to growth. If you're looking to discover new audiences, look no further -- Schedule 15 minutes with us.
---

Bridget is the Marketing Coordinator at Helixa, where she manages social media, video content, and champions company culture. In her free time, she loves listening to musical theatre podcasts, cooking vegan food, and spending way too much time on TikTok.