Italian B.M.T on Italian Herb & Cheese, toasted, with lettuce, onions, pickles, and banana peppers. Top it with chipotle southwest and ranch dressing, and always finish with salt and pepper. My Subway order for years, but now it's hard for me to watch anything on TV without hearing about Subway's big "Eat Fresh Refresh." The advertising campaign has seen numerous star athletes, including Steph Curry, Tom Brady, and Serena Williams, helping showcase the new sandwiches and ingredients at Subway. The campaign was wildly successful and helped Subway achieve its highest August sales since 2013.
As we move into the final months of the NBA regular season and continue to gain steam towards the playoffs, what other brands could use NBA players in their own advertising refresh? Wendy's released a new commercial late last year with retired NFL running back Reggie Bush to promote their breakfast menu, and it was a big hit. So can Wendy's also partner with NBA players to continue their breakfast momentum? Let's take a closer look.
Back to the (Sandwich) Future
When we look at the audience of people who are engaging with both Wendy's and the NBA, there is an opportunity for Wendy's to continue working with retired players looking for their morning breakfast sandwich.
Wendy's & NBA Fans' Favorite Retired Basketball Players by Affinity
Amar'e Stoudemire – 5.28x
Luol Deng – 5.27x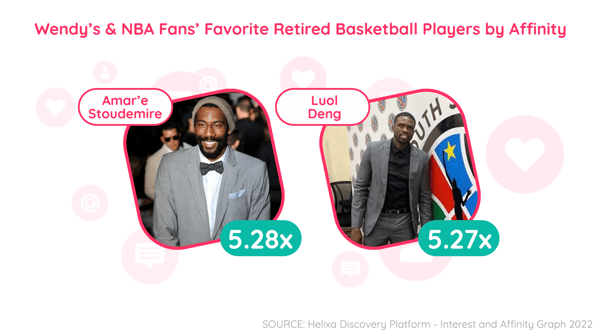 Wendy's and NBA fans love retired basketball players Amar'e Stoudemire and Luol Deng. Amar'e also has one of the highest reaches among this audience, along with his former Miami Heat teammate Dwyane Wade. The sight of bleary-eyed Amar'e and D-Wade trying to break into a Wendy's the morning after a late night of playoff basketball for a breakfast sandwich would definitely catch my attention.
Wendy's & NBA Fans' Favorite Retired Basketball Players by Reach
Amar'e Stoudemire – 12.79%
Dwyane Wade – 18.78%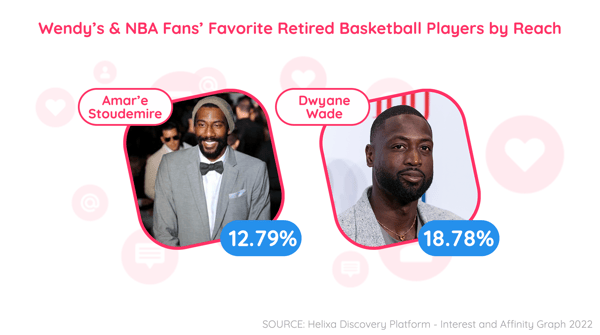 Retired players aren't the only way that Wendy's could go though. Subway blends active and retired players by using Charles Barkley for voiceovers with Steph Curry, among others, on screen. Three of the most popular active players among our NBA and Wendy's audience are young guards Donovan Mitchell, Trae Young, and Ja Morant.
Wendy's & NBA Fans' Favorite Basketball Players by Reach
Donovan Mitchell – 14.72%
Trae Young – 13.67%
Ja Morant – 11.43%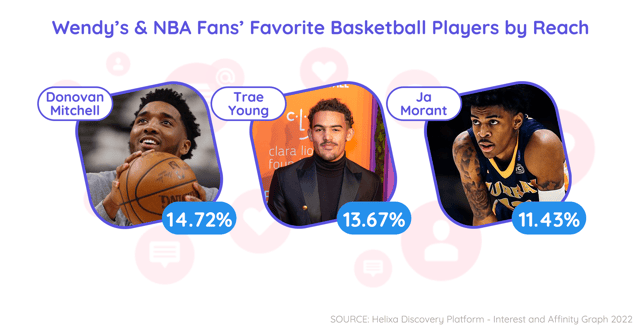 It would be hard not to enjoy watching Dwayne Wade take one of these younger guards under his wing while enjoying Wendy's breakfast sandwiches. A conversation about the X's and O's of basketball can easily turn into a debate over whether biscuits or croissants are the better bread for a sandwich (it's definitely biscuits by the way).
Next Man Up
Refreshing a brand's advertising campaign can sometimes be a daunting proposition, but if you know who the right influencers are for the campaign, then you have already fought half the battle. While Wendy's could concentrate on using active and retired NBA players, brands also now have the option to start including college athletes in their campaigns. As more brands start to use this new talent pool, it will be interesting to see if the advertising landscape changes. In the meantime, it's lunchtime, and I have a craving for Subway for some reason...
---

Alex is a Senior Research Analyst at Helixa, where he leverages his analytics background to help clients discover and interpret surprising insights. In his free time, he can often be found trying to locate All-Dressed chips or training his phone to stop removing the letter "u" from words.