VaynerMedia used the Helixa platform to learn more about their potential market segments, looking at the beverage company's specific brand, as well as fans of energy drinks in general.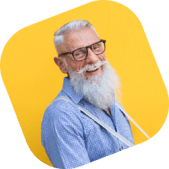 VaynerMedia was looking for multiple new cohorts to help expand the target audience and drive relevance with multiple new audiences. Helixa helped identify numerous new and viable cohorts, one especially surprising that paid back in dividends were active, 50+ year old consumers.
This was a completely new and untapped cohort for the category and not an audience that the multitude of energy brands were targeting.
VaynerMedia has always focused on the intersection of culture and consumer attention to power data-driven, targetable cohorts — removing subjectivity and, thus, ran with it.
These segments were then built out into more detailed cohorts through additional research and tested as part of the energy drink campaign. These findings informed creative, strategy, and execution to reach this new audience across channels like Facebook and Instagram via contextually targeted CTR campaigns.