The 2022 FIFA World Cup is wrapping up this Sunday, and Helixa has been on the ball to provide audience insights all tournament long. Helixa's audience intelligence platform is fast and can quickly provide actionable insights. It only took us 15 minutes to discover insights for each query below.
The world's favorite sport is in no shortage of star athletes or opportunities for brand partnerships. Check out some insights about World Cup fans below to see how Helixa is different. Our audience insights are fresh and culturally relevant; they reflect the speed businesses need today. Clients use our platform to uncover new growth opportunities, power content or product development, drive data-backed media planning and execution, inform partnerships and so much more.
Friday, November 18th: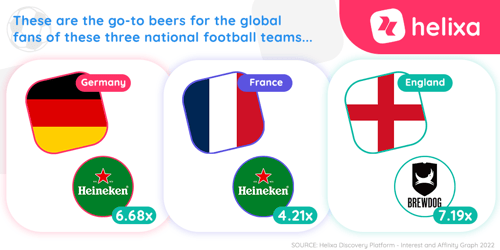 The World Cup 2022 is upon us! What will you be drinking? We found the fans of these three national teams love these beverages…

Tuesday, November 22nd: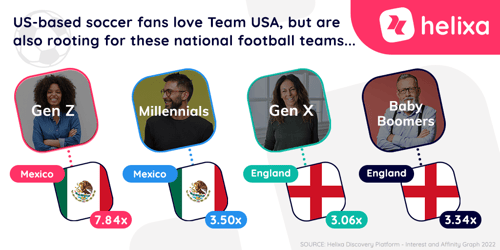 Day 3 of the World Cup! We were curious to learn more about US-based soccer fans and which national football teams they're rooting for besides Team USA. We broke down this audience by generation and found these interesting insights…
Wednesday, November 30th: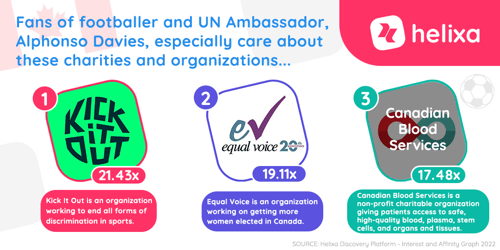 Canada's Alphonso Davies is the first footballer to be an ambassador for the United Nations Refugee Agency, UNHCR. We took a closer look at his fans and their favorite charities & organizations…
Monday, December 5th: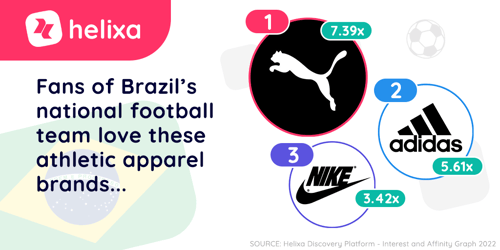 Brazil is in the knockout stages of the World Cup! We found that the fans of their national football team love athletic apparel brands, especially these…
Tuesday, December 13th: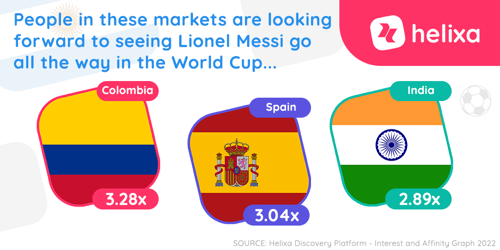 Argentina and Lionel Messi are in the Semi Finals of the 2022 FIFA World Cup. Can Messi finally win it all and end the G.O.A.T. debate once and for all? We looked at which countries (outside Argentina) are most likely to be rooting for Messi to go all the way…
Argentina vs France
France is back in the final, and we know that plenty of Heineken will be flowing while Argentina will have the backing of other countries as Messi looks for his first World Cup. No matter who you're cheering for or where you're cheering from, Helixa can keep you up to date with insights that can be pulled as quickly as half-time.
---

Alex is a Senior Research Analyst at Helixa, where he leverages his analytics background to help clients discover and interpret surprising insights. In his free time, he can often be found trying to locate All-Dressed chips or training his phone to stop removing the letter "u" from words.