Bloomingdale's is a luxury department store staple in the US, and their iconic brown shopping bags can be spotted all over the country. The store's ethos "is to create a shopping experience that customers will not find elsewhere." Like most department stores, they sell a large assortment of clothing, jewelry, furniture, housewares, and more, but they are focused on staying innovative in the ever-changing retail landscape.
While similar to other luxury retailers like Neiman Marcus and Saks Fifth Avenue, Bloomingdale's has seen better financial results by recently using its stores for pop-ups and introducing its new and smaller store, Bloomie's. Both their pop-up section, The Carousel, and Bloomie's feature themed curated collections of pieces from different big and small brands. Kevin Harter, Bloomingdale's VP of Integrated Marketing, said the pop-ups have been "a great place for us to test out new brands and see how they resonate with our shopper."

Bloomingdale's is a unique retailer because they strive to make luxury shopping accessible to all. Shopping habits and supply chains have drastically changed over the last few years, and this luxury retailer is fighting to stay competitive in both brick-and-mortar and digital markets. We decided to take a closer look at Bloomingdale's audience to learn more about their demographics, buying styles, and interests and how the retailer is targeting Gen Z and Millennials with their new personalized shopping experiences.
The Bloomingdale's Audience
Wondering who shops at Bloomingdale's? Helixa's Discovery Platform uses audience intelligence to provide a multitude of demographic, psychographic, and lifestyle data and is weighted, so it is representative of the US population today. According to our platform, the Bloomingdale's audience mainly consists of older women with children. Here's a closer look:
The Bloomingdale's Audience's Demographics
— Female – 80% || 1.61x
— Aged 50-69 years old – 50% || 5.38x
— Has children – 45% || 1.30x
— Makes less than $40K a year – 35% || 1.13x
Top Metro Areas
1. New York-Northern New Jersey-Long Island, NY-NJ-PA – 2.16x
2. Miami-Fort Lauderdale-Pompano Beach, FL – 1.57x
3. Los Angeles-Long Beach-Santa Ana, CA – 1.34x
4. Atlanta-Sandy Springs-Marietta, GA – 1.42x
5. Riverside-San Bernardino-Ontario, CA – 1.64x
*Affinity (0.00x) is the leading indicator of what is distinctive and unique for your target audience.
*Reach (00%) is the portion of your audience that is interested.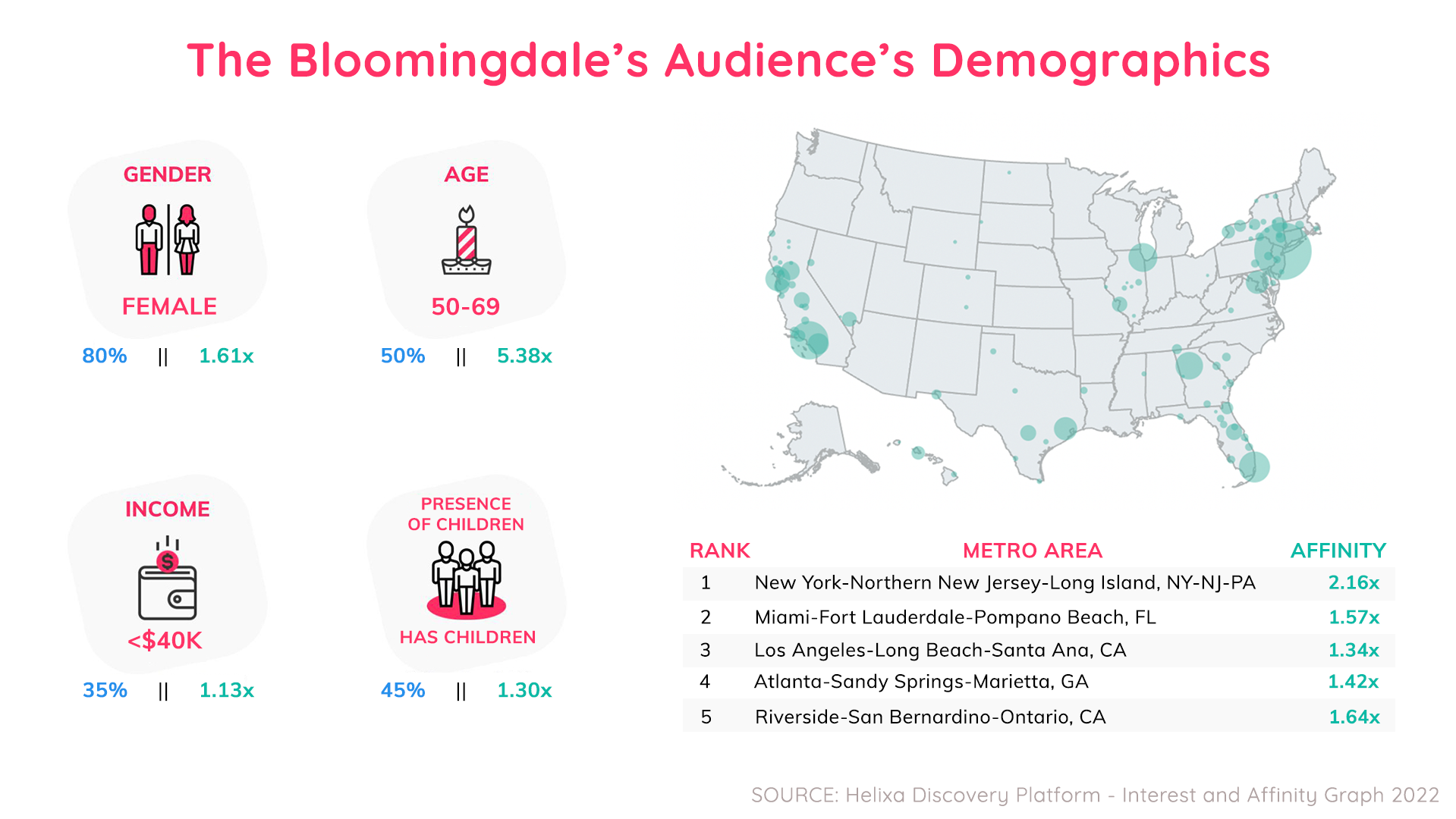 We were curious to learn more about this audience's shopping habits, so we used Helixa's Total Consumer View (our data fusion product in partnership with MRI-Simmons) and found their top buying styles and why they enjoy shopping:
The Bloomingdale's Audience's Top Buying Styles
(Agree completely)
1. "I think shopping is a great way to relax." – 20% || 1.49x
2. "I enjoy wandering the store looking for new, interesting products." – 23% || 1.34x
3. "I buy brands that reflect my style." – 23% || 1.31x
4. "If I really want something, I will buy it on credit rather than wait." – 17% || 1.30x
5. "Brand name is the best indication of quality." – 7% || 1.28x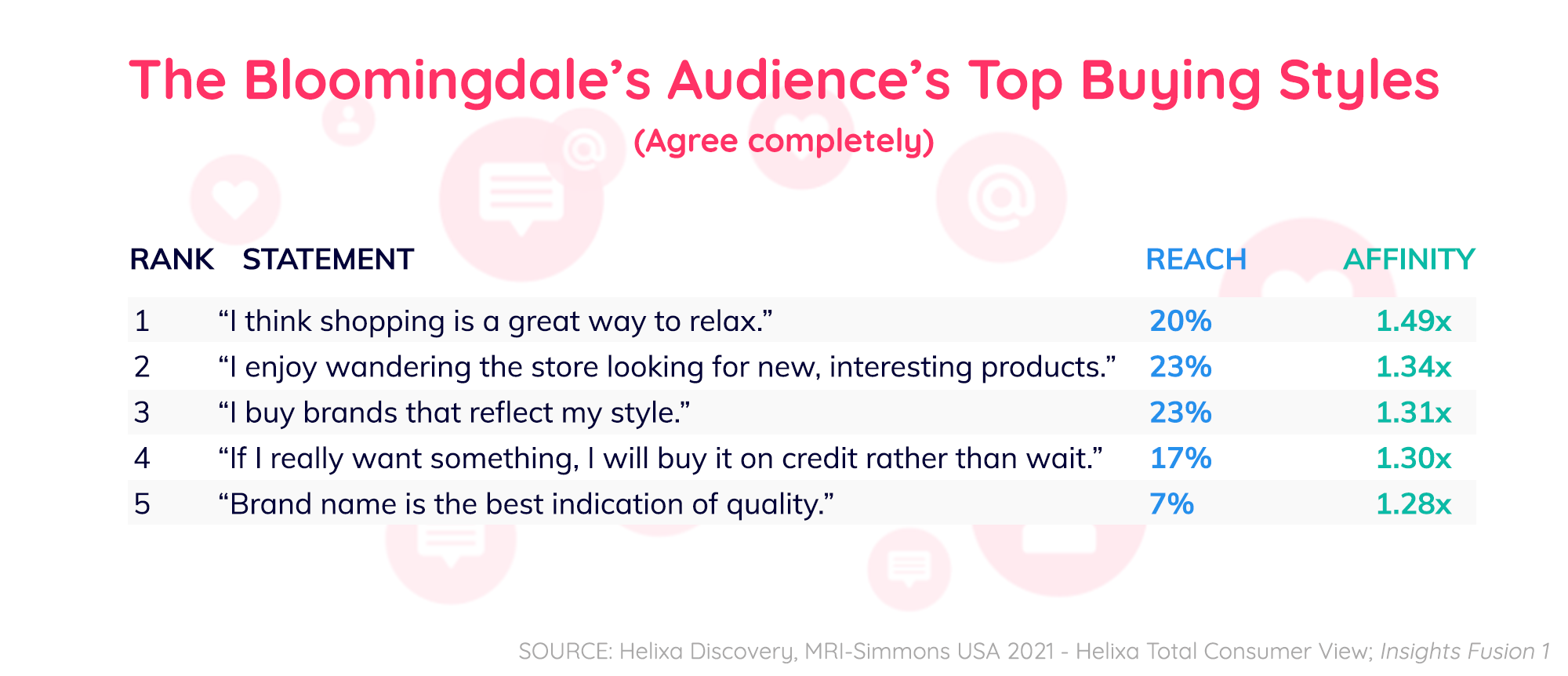 The Bloomingdale's customer obviously loves their retail therapy, but let's go a step further by discovering their favorite brands and influencers. We found that this audience loves high-fashion luxury brands and follows iconic fashion influencers. Interestingly enough, Marc Jacobs just created a colorful summer collection for Bloomingdale's that will be featured in their pop-up shop section, The Carousel.
The Bloomingdale's Audience's Favorite Influencers & Brands
Influencers
1. Marc Jacobs – 14.22x
2. Rachel Zoe – 11.23x
3. Victoria Beckham – 7.11x
Brands
1. Jimmy Choo – 23.27x
2. Christian Louboutin – 19.85x
3. Valentino – 18.84x
4. Saint Laurent – 17.53x
5. Dolce & Gabbana – 16.68x
6. Dior – 15.97x
7. Versace – 15.95x
8. Burberry – 14.25x
9. Louis Vuitton – 13.30x
10. Michael Kors – 12.09x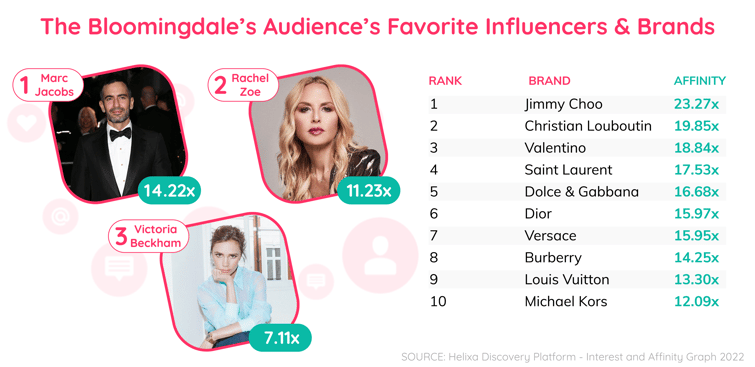 Clearly, the Bloomingdale's audience is older, adores luxury brands, and appreciates an in-store experience where they can find new brands and explore different styles. So how can this luxury retailer connect with younger audiences?
New Store Concept: Bloomie's

With more consumers shopping online, retailers have noticed and are trying to revamp their in-store offerings, including Bloomingdale's. The luxury retailer took a step in the right direction by introducing its new store concept, Bloomie's — which has "everything you know and love about Bloomingdale's" but is more condensed. The store features interactive events, virtual or in-person styling sessions, online pickup & returns, and on-site alterations. And similar to their department stores' pop-up shops, they have different hand-picked collections every week. So while it is a smaller activation, consumers feel like they get something fresh and have a reason to keep coming back.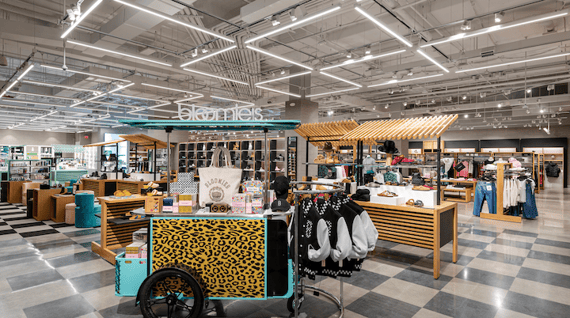 (Source: Modern Retail, 2021)
Bloomingdale's is working hard to attract digital-first customers with a more personalized shopping experience. According to Rakuten, 66% of consumers increased their online spending during the pandemic, and we found that Gen Z and Millennials are 1.20x more likely to "often shop for fashion products online." From there, we took a closer look at Gen Z and Millennials who engage with Bloomingdale's and found their top fashion & style attitudes:
Gen Z & Millennial Bloomingdale's Fans' Top Fashion & Style Attitudes
(Agree)
1. "Posts I see on social media influence my fashion choices." – 34% || 1.37x
2. "I look to social media for tips on how to do my makeup." – 28% || 1.23x
3. "I like to experiment with new clothing styles." – 35% || 1.13x
4. "I consider my fashion style to be trendy." – 35% || 1.13x
5. "I love to mix and match high and low-end designers when putting together an outfit." – 39% || 1.09x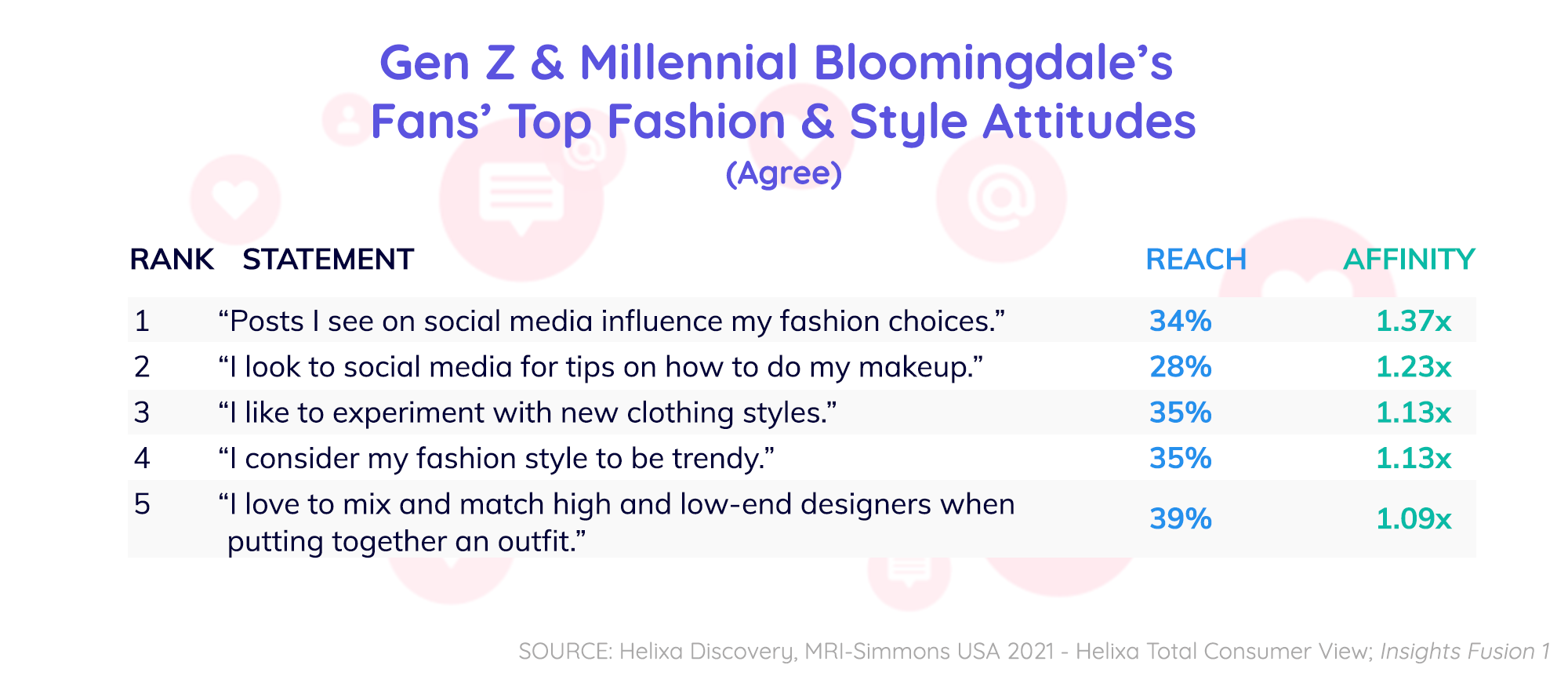 These connected generations use social media to find trends, explore different designers, and discover their own style identities, but they still enjoy in-store experiences. Shopping payment plan company Klarna found that Gen Z and Millennial shoppers "appreciate the speed and efficiency of physical stores more than older shoppers; (specifically) the ability to purchase and return items quickly." Bloomingdale's created Bloomie's because they are dedicated to "meeting (their) customers where they shop" by offering in-store, online, or pickup options. By creating this new store concept, Bloomingdale's is challenging the traditional department store format, and who knows, Bloomie's could be the future of retail.
Getting to (actually) know your customers
By using audience intelligence, we have discovered that the Bloomingdale's audience doesn't just simply shop to buy a new outfit; shopping is how they kick back and relax. The luxury retailer recognizes this and ensures their customers feel at home by providing personalized experiences, eateries, and guest services. Bloomingdale's isn't just your standard department store either; they are continuing to evolve their stores by listening to younger generations and their digital needs. Audience intelligence is a game-changer because marketers need to understand their customers' evolving interests and intentions to connect with them in a more authentic way.
Helixa is different because we are not a social listening platform; we transform signals into insights, enriching data to reflect the many dimensions of consumers. Our platform goes beyond first-party data or basic demographics and identifies your current audience as well as pathways to growth. In just a few clicks, you can easily understand how your target audience (and your competitors) feels, what they care about, and the trends motivating your industry.

Looking to discover new audiences? Look no further — Schedule 15 minutes with us.
---

Bridget is the Marketing Coordinator at Helixa, where she manages social media, blog, and video content and champions company culture. In her free time, she loves listening to musical theatre podcasts, cooking vegan food, and spending way too much time on TikTok.