Netflix's Formula 1: Drive to Survive has helped propel Formula 1 back into the US sports consciousness. The push to make F1 more mainstream in the US is not a subtle one; in 2017, US media company Liberty Media purchased the championship and added two glamorous Grand Prixes to the race calendar in Miami and Las Vegas.
With F1 adding more US races, international fans have begun to question if the historic and arguably the most glamorous Monaco Grand Prix will be discontinued? Currently, organizers are denying this rumor; after all, the allure of Monaco has made F1 synonymous with luxury sponsorships, but what will that carry over for the US races? The 2022 Monaco Grand Prix was just this past weekend, and according to Highsnobiety, "F1 is now unequivocally luxury." Let's take a closer look at both the global and US audiences and how their preferences vary.
Luxury is a state of mind
Not surprising, the global fans of Automobile Club de Monaco, the organizers of the Grand Prix, love fashion, accessories, and shopping. As do their drivers, seven-time world champion Lewis Hamilton has been very outspoken about his desire to wear jewelry due to his nose ring being difficult to remove — luckily, the FIA granted Hamilton an exemption for this past weekend.
Automobile Club de Monaco Fans' Top Fashion Lifestyles
1. Accessories Addicted – 4.69x
2. Swayable Shopaholics – 4.39x
3. Sporty Stylists – 3.07x
4. Fashion Enthusiasts – 2.38x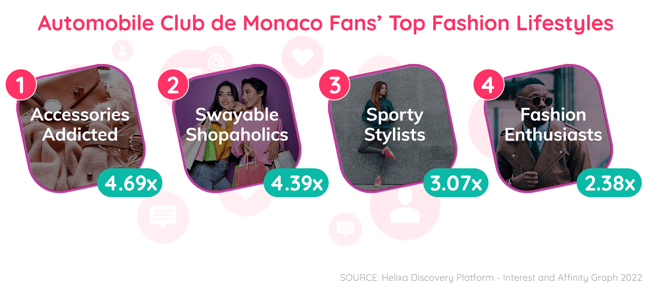 This fanbase is also 2x more likely to have an interest in high-end clothing brands. The Monaco Grand Prix is a prestigious event on the French Riveria where attendees strive to look their best. This presents an excellent opportunity for Monaco to partner with these high-end favorites to gain even more exposure during the race weekend.
Automobile Club de Monaco Fans' Favorite High-End Clothing Brands
1. Ralph Lauren – 4.68x
2. Valentino – 3.88x
3. Louis Vuitton – 3.38x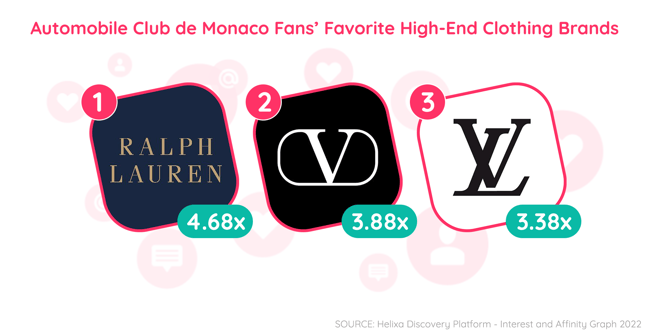 Of all the accessories that the Monaco audience can be addicted to, there is a clear favorite category: Watches. Their favorites are some of the biggest names in watchmaking. Many of this season's F1 drivers are actually sponsored by luxury watch brands. Richard Mille sponsors Charles Leclerc and Mick Schumacher, Hublot sponsors Guanyu Zhou, and Bell & Ross sponsors the Renault F1 Team. These brands are already capitalizing on this audience's big taste for luxury.
Automobile Club de Monaco Fans' Favorite Watch Brands
1. Tag Heuer – 35.93x
2. Hublot – 27.27x
3. Rolex – 10.20x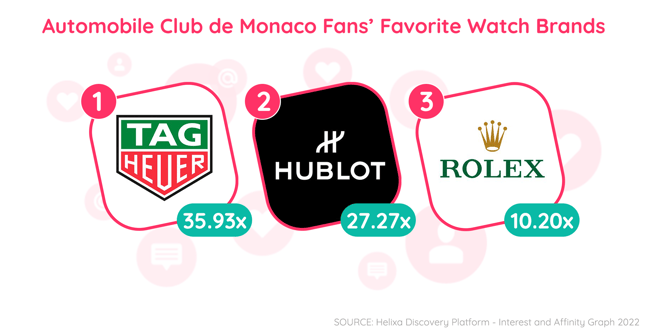 Athleisure, the new luxury
The US Formula 1 fanbase also enjoys fashion but is less interested in what we'd typically consider high-end clothing brands and more interested in activewear.
US Formula 1 Fans' Top Fashion Lifestyles
1. Sporty Stylists – 3.20x
2. Accessories Addicted – 2.04x
3. Swayable Shopaholics – 1.80x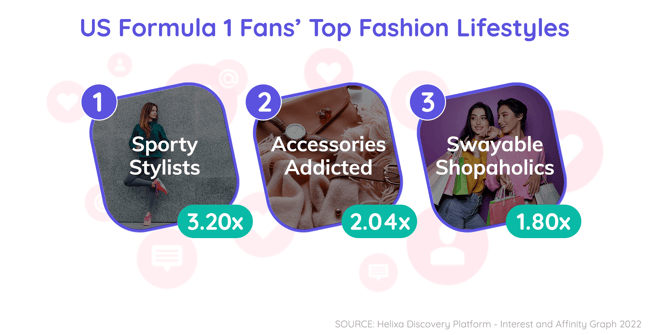 US fans are nearly 3x more likely to engage with sports retail brands like Nike, Adidas, and Foot Locker.
US Formula 1 Fans' Favorite Sports Retail Brands
1. Adidas – 4.87x
2. Nike – 4.70x
3. Foot Locker – 3.62x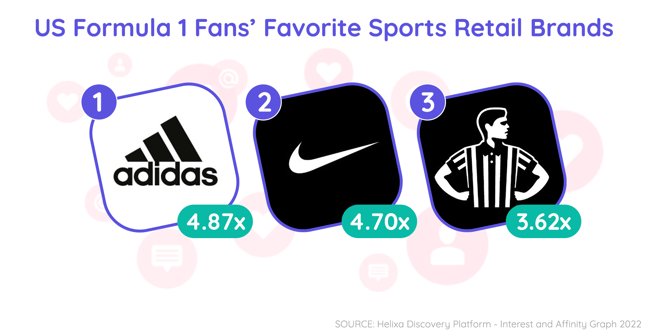 Move over NASCAR
Formula 1 oozes luxury — they partnered again with global brand Louis Vuitton to create a monogram-covered trophy trunk this year. No US sport is quite as glamorous as F1; for example, NASCAR driver Chase Elliot is sponsored by NAPA Auto Parts and Hendrick Motorsports, not Gucci or Mercedes-Benz.
However, while it may be a new market with a unique audience, F1 is already bringing some luxury to the new US races — the Miami Grand Prix had Tiffany & Co. trophies that included iconic Tiffany blue cases. This US luxury brand is beloved and has a deep legacy that fits nicely with the luxury aesthetic the global F1 audience is used to. F1's global pedigree, and the lux lifestyle that accompanies it, is an opportunity to bring in more luxury sponsorships into the US sports market.
---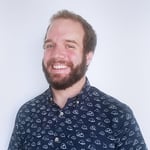 Alex is a Senior Research Analyst at Helixa, where he leverages his analytics background to help clients discover and interpret surprising insights. In his free time, he can often be found trying to locate All-Dressed chips or training his phone to stop removing the letter "u" from words.