We have some fresh insights on the 2023 Grammy Awards nominees to share with you. Helixa's audience intelligence platform is fast; it only took us 15 minutes to discover insights for each query below.
It's not just about being efficient, our audience insights are fresh and culturally relevant and reflect the speed businesses require today. Clients use our platform to uncover new growth opportunities, power content or product development, drive data-backed media planning and execution, inform partnerships, and so much more.
The world of music is constantly evolving, with new artists entering the scene and the resurgence of established artists. Over the past couple of years, the social platform TikTok has revived esteemed musicians' and bands' classic hits. Users of the app love resurfacing nostalgic hits. The Swedish band ABBA has seen great success on the platform. Their iconic songs 'Angeleyes,' 'Slipping Through My Fingers,' and 'Gimme! Gimme! Gimme!' have been used in millions of videos.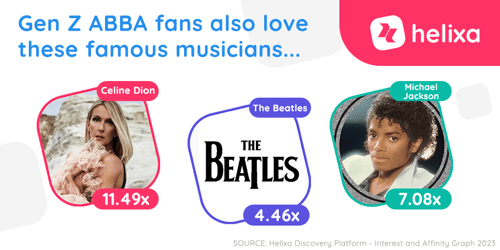 This year, ABBA is nominated for 4 Grammys, including Record Of The Year. According to our platform, the band has become more popular with Gen Z than Millennials. We were curious to learn what other classic artists are popular among Gen Z ABBA fans…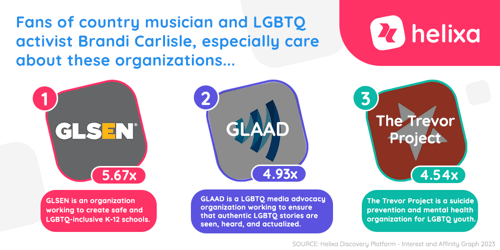 Country musician and LGBT activist Brandi Carlisle is nominated for both Record and Album of the Year. We took a closer look at her fans and discovered which organizations they interact with most on social media…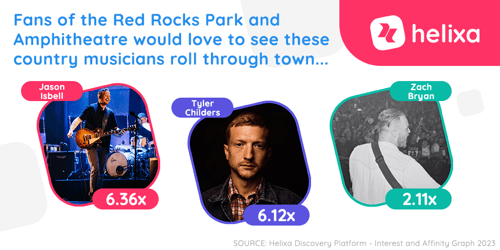 Nominated for Best Country Solo Performance, Zach Bryan also released his live album from the Red Rocks Amphitheatre on Christmas Day. We found that Red Rocks fans are most interested in these country musicians…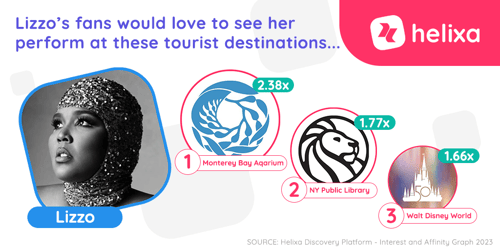 Lizzo is nominated for multiple Grammy awards this Sunday, and last year she even got to play James Madison's flute at the Library of Congress. We took a closer look at her fans' favorite tourist destinations to discover where her fans would like her to play next…
The Grammys this Sunday will feature 91 categories, but with Helixa you can explore over 400 categories of influencers, creators, talent, products and services, and media properties. It doesn't matter if your favorite artist is up for any awards, Helixa can keep you up to date with insights that can be pulled in less time than your favorite album.
---

Bridget is the Marketing Manager at Helixa, where she leads content strategy and champions company culture. In her free time, she loves listening to musical theatre podcasts, cooking vegan food, and spending way too much time on TikTok.