The Last of Us season finale is this Sunday, and Helixa has been providing fresh insights on the fans of the TV series the last few weeks! Helixa's audience intelligence platform is fast and can quickly provide actionable insights. In just 15 minutes, we discovered the following insights.
Helixa's audience insights are fast, fresh, and culturally relevant, reflecting the speed businesses require today. Clients use our platform to uncover new growth opportunities, power content or product development, drive data-backed media planning and execution, inform partnerships, and so much more.
The hit drama TV series is based on the Playstation game that came out ten years ago. As we revealed in our latest Gaming Report, gaming is not just a hobby anymore; it's a lifestyle. The eSports and gaming market is worth $198.4 billion and has over 3.2 billion players worldwide. With more brands paying attention to this growing industry, we wanted to learn more about the TV series fans and their gaming preferences. Check out our fresh insights below!
Friday, February 24th: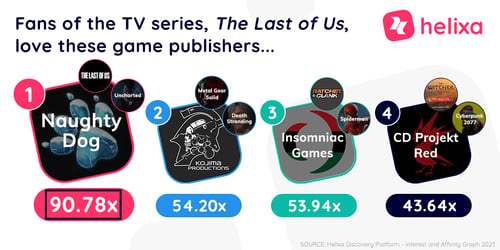 The Last of Us was the 2nd most-watched TV premiere in HBO and HBO Max history. We were curious to learn more about the fans and their video game preferences and found these interesting results…
Thursday, March 2nd: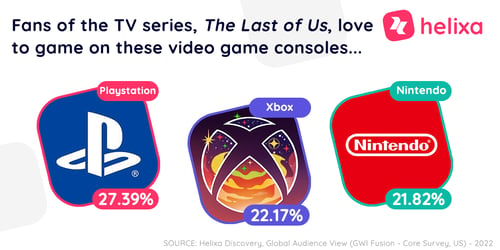 The Last of Us is a massive hit for HBO. The video game on which the show is based was originally released on PlayStation in 2013. These are the game consoles the TV series fans are currently using...
Friday, March 10th: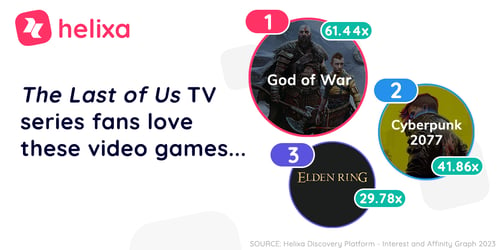 Are you ready for The Last of Us season finale this Sunday? We used our audience insights to take a closer look at the TV series fans and their favorite video games (excluding The Last of Us). Who knows, these games could be the next TV adaptions…
The popularity and success of The Last of Us cannot be overstated, with the first two episodes collectively averaging over 21 million viewers. For up-to-date audience insights with lightning-speed results, look no further than Helixa. Our Discovery Platform has over 400 categories of influencers, creators, talent, products and services, and media properties. Helixa can keep you up to date with insights that can be pulled as quickly as loading your favorite video game.
---
From Your Telmar Helixa Marketing Team