Andy Warhol once said, ' They always say time changes things, but you actually have to change them yourself' and ain't that the truth!
Live events have not gone away, but they have changed. I understand that nothing can replicate the magic that an in-person live event offers, but just because they've now been moved online doesn't excuse that recent live stream events have left me largely uninspired.
As we're being pushed to innovate, why have so few risen to the occasion? Why have there been so few live stream experiences that provide their own unique magic?
Take "Live From Home," for example, which raised a lot of money for a great cause but didn't feel as immersive or as buttoned-up as it could have been. As with many of the other live streams I've seen recently, it felt like the artists were simply turning on their laptops and playing a few songs.
In contrast, Phish's "Dinner and a Movie" series has recognized that, while the energy of a live show is hard to replicate, the sense of community can still come through at home. Once a week, their fanbase watches a concert recording and shares a meal that corresponds to the concert's location.
Leave it to the hippies to know a thing or two about doubling down on community when things are upside down.
One size does not fit all
For years, marketers have agreed that campaigns are most effective when the right message is displayed at the right time for the right target audience.
This has mostly been discussed in the context of advertising, but it's also true when creating immersive experiences that resonate.
For example, I'm quite positive that applying Kanye West's marketing strategies to an artist like Adele would not yield the desired results. They have very different musical styles, brands, and audiences.
If you're a talent agency or label with hundreds of artists and influencers to manage, you need a reliable and repeatable process for creating experiences for your talent's channels. Here's how that might work.
Creativity, innovation, and execution
We took a look at two public figures in very different spaces to explore potential experiences for their respective audiences.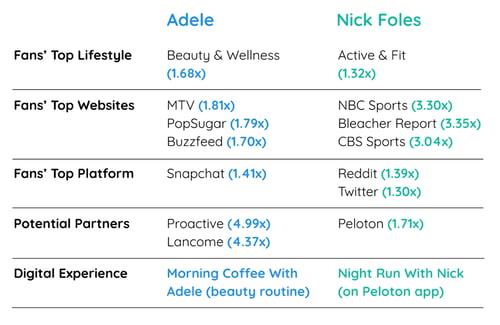 It's obvious that Adele's audience is interested in music, but they are also highly engaged with beauty products. Proactive and Lancome are among some of their highest affinities, presenting some potential sponsorship opportunities.
Speaking of partnerships, they also frequent MTV, PopSugar, and Buzzfeed. Adele has quite a following of her own, but working with one of these outlets could provide an opportunity to expand her tent even further. And whether she sticks to her own feeds or works with a partner, her audience can be reached most effectively on Snapchat.
Bring it all together and we have our first potential idea for Adele, a morning coffee and beauty routine for those fans that still want to look their best, even when they're stuck at home. And it only took about 10 minutes to pull this data.
This process could be applied to any influencer in our platform for quick insights when you need them. If you have a little more time on your hands, it can also supply much deeper insights for those bigger research pieces.
And ultimately, it creates more thoughtful, tailored experiences that will keep fans coming back again and again.
Winning examples to learn from
Phish isn't the only group uniting people through a shared meal: The New York Times partnered with Salt, Fat, Acid, Heat author Samin Nosrat for The Big Lasagna. Nearly 30,000 people made her lasagna all weekend and joined together on Sunday night to share a meal together via live stream.
Not only that, but it was a big content focus all week for the New York Times, supplying YouTube videos, Instagram stories, pictures, and more to build up anticipation. That's a great example of how a simple live stream can be built up to feel more like a bigger event.
But if you want to talk about going big, look no further than Travis Scott's Fortnite concert, which drew 12.3 million concurrent viewers and launched his new song to No. 1 on the Billboard Hot 100.

By leveraging the overlap between Travis Scott's audience and Fortnite's, this partnership broke the game's record for live events and even broke Spotify's streaming debut record for the year.
I definitely don't think the impact would've been the same if Travis Scott had uploaded a video of himself performing in his living room.
Provide the connection people crave
People are seeking emotional connections and experiences that take them out of their day-to-day. As part of the media industry, we have the responsibility of making sure the experiences don't fall flat and instead allow fans to engage in a deeper way.
Large-scale live events will probably be one of the last things to re-open. As a result, live streams will continue to be a part of the new normal, as other activities re-enter our lives and compete for our attention.
To maintain the connection that your audience is craving as they start to get it from other places, you need to have a deeper understanding of their wants, needs, and motivations.
There is a time and a place for more spur-of-the-moment content. But to sustain the type of appointment viewing that has returned with live-streaming, we need to create in a way that feels fresh and urgent.
This is a huge opportunity to get creative and push the envelope for live-stream experiences that are memorable on their own terms.

As the Business Development Director of Media at Helixa, Tom Murray helps media and entertainment partners reimagine their research and insights tools to support and accelerate revenue growth.