Great Britain Males Aged 18-49 Prefer LIV Golf Over Both the PGA & DP World Tours.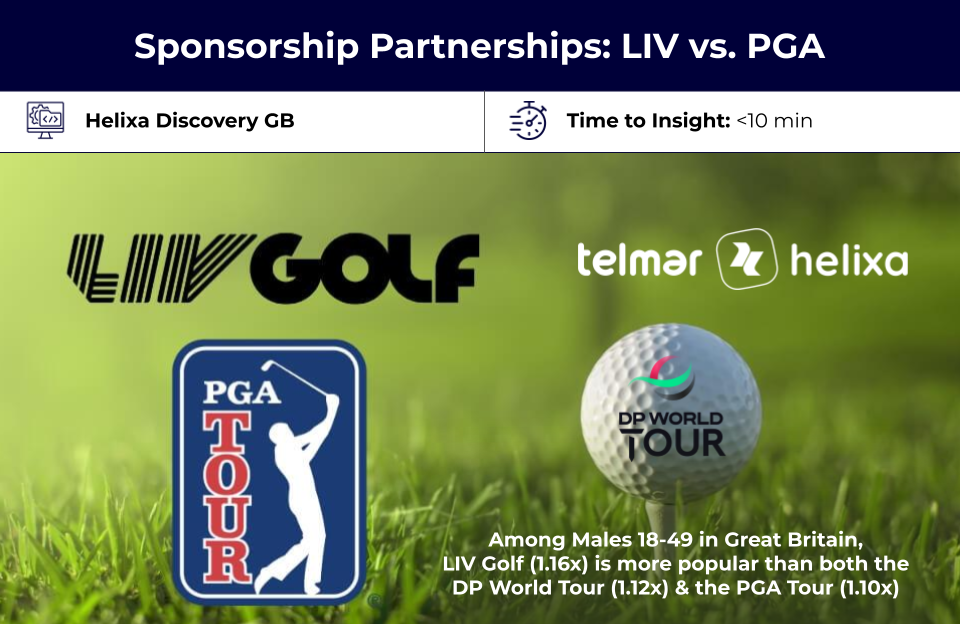 Utilizing the Helixa Discovery GB we analyze both tours, their brightest stars, and the sponsorship opportunities available for both.
The first two majors of the golf season, The Masters and PGA Championship, were intriguing duels between golfers on the PGA Tour and those on the LIV Tour. With The Open around the corner, Helixa had planned to evaluate the differing sponsorship opportunities between golfers on both tours. And then… they just merged. Overnight. So thanks for that guys! Nonetheless, each golfer has their own unique fan base which comes with a unique set of interests. To explore these sponsorship opportunities, let's take a look at Tommy Fleetwood, of the PGA & DP World Tours and Lee Westwood, of LIV Golf. While both are British National golfers, they have chosen distinctively different career paths. Using the Helixa GB platform, we will analyze each golfer to better understand their fan bases, which brands they are most associated with, and ensure they are working with the correct media partners.
Who are their Core Audiences?
While both Fleetwood and Westwood's audiences in Great Britain are predominantly male with similar psychographics, Fleetwood's audience is fifteen years younger on average than Westwood's. Combining this information with the knowledge that both audiences are Motor Lovers, we can explore what car brands are the best choice to sponsor either golfer and by combining Helixa data with Kantar-TGI data, we can dive into what drives their audience's purchases.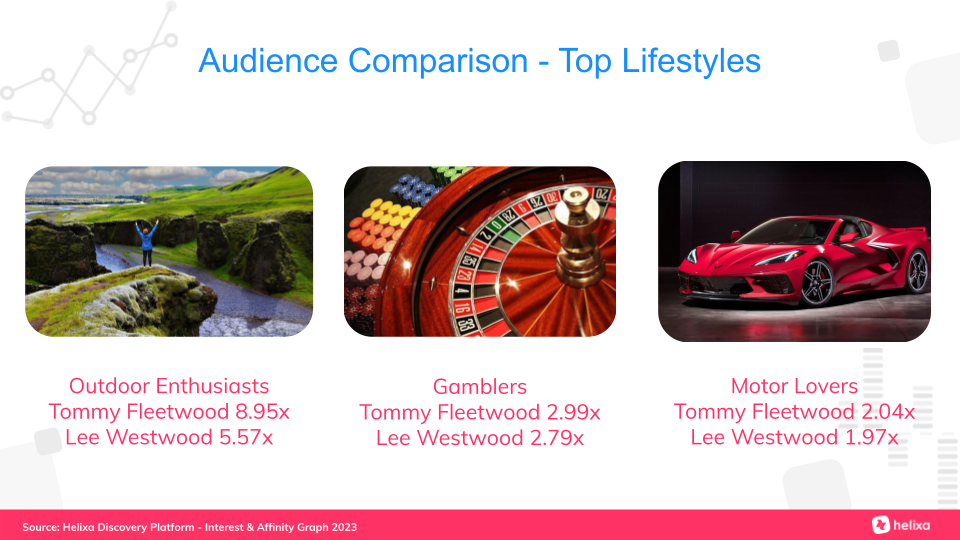 What Brand Should Sponsor Their Bag?
Understanding who is the most popular golfer and which audience best fits your brand is only half the battle. Executing the best media strategy to reach potential customers at their passion points is where brands succeed. The major motivation, beyond ending protracted litigation, for LIV golf to approach the PGA Tour about a potential merger was due to LIVs inability to acquire key sponsorships, media partnerships, and television ratings. The PGA Tour's main motivation, beyond pressure from the membership for larger tournament purses, was as a result of sponsors and media partners displeasure with compelling player departures to LIV Golf. By exploring players, Fleetwood and Westwood's audiences', we can see that the merger will accomplish both goals and increase the opportunities for both Tours.
Fleetwood's audience prefers to buy products from companies who sponsor TV programs (1.32x) while Westwood's prefers to buy products from companies who sponsor sports events and teams (1.65x). Advertisers can make a decision on which golfer most closely aligns with their brand and make the decision to either sponsor the TV broadcast or the event itself.
The main criteria for choosing a car brand also differs among each golfer's audience. Fleetwood's audience's preference for Style & Design (1.44x) while purchasing a car, most closely aligns with brands focused on style, such as Mitsubishi and Land Rover, while his sponsor BMW is the second favorite car brand overall.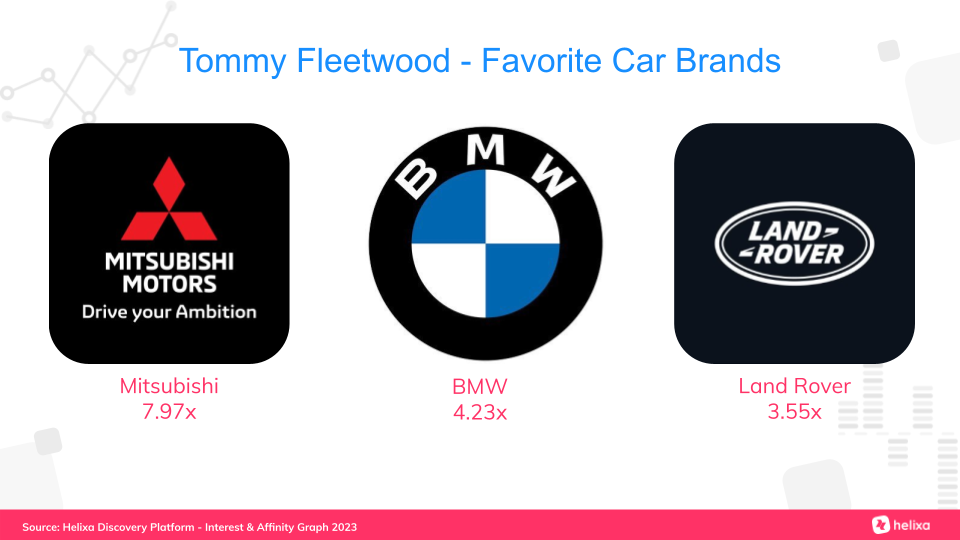 While Westwood's older audience definitely prefers the brands with a Great Image (1.48x) in BMW, Porsche, and Audi. A potential merger allows for more sponsorship opportunities, either via TV or Event, across a wide variety of brands.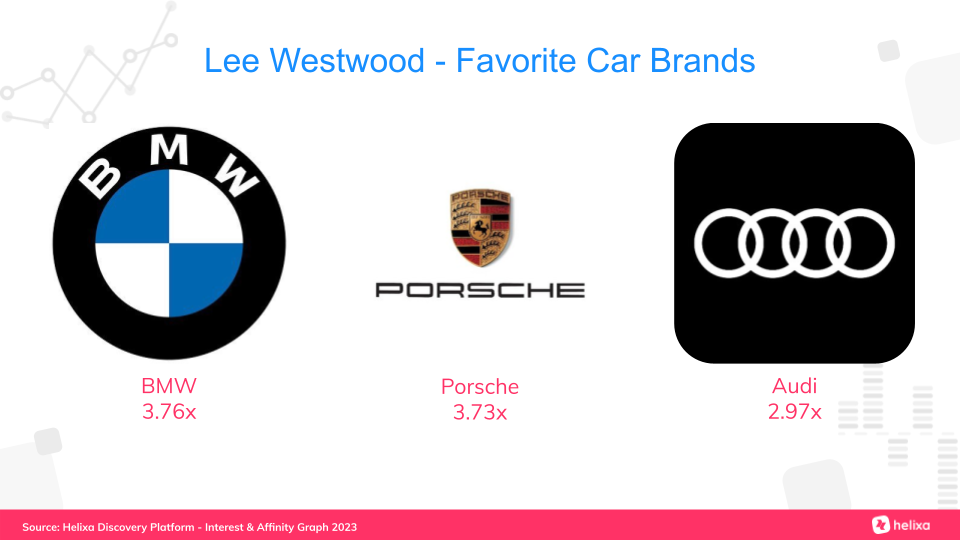 The power of sponsorships is truly seen when we look at how both golfers' audiences engage with their golfing sponsors. Fleetwood's audience is over 12x more likely to engage with his sponsor TaylorMade than Westwood's audience. Golf fans know what equipment and brands their favorite golfers are using and this can easily carry over to other sponsorship opportunities.
Utilizing Helixa, brands and media partners can uncover the opportunities, Tournaments and/or Individual Golfers, that will have the biggest impact on a mutually beneficial partnership.