Genesis
On May 2nd, of this year and after years of reported untenable conditions the Writer's Guild of America (WGA) - ostensibly a labor union collaborative comprised of over 11,000 film, television, news, radio, and online writers - made the formal decision to put down their pens and hit the picket line. The list of demands, while seemingly innocuous to those outside of Hollywood, after months of contract negotiations were rejected by the Alliance of Motion Picture and Television Producers (AMPTP).
WGA was making a statement. While most people believe the entertainment industry runs on its acting stars, think Tom Cruise, George Clooney, and Reese Witherspoon, in reality all content begins and ends with the writers. A fact this blogger attempts to make on nearly a daily basis. The demands, which included higher pay and stable pay structures, a fairer shake on contract deals in regards to syndication and/or streaming platforms, and safeguards against the potential threat of artificial intelligence, was viewed by many within AMPTP as non-starters or unrealistic. In fact, Disney's reinstated CEO Bob Iger went so far as to call the writers "unrealistic." It was clear the two sides were at an impasse and a potentially long pause in production was upon us.
The Ripple Effect
For all sides, writers, actors, directors, producers, and consumers the effects were felt immediately. Hollywood and the entire entertainment industry shutdown. Networks began to air reruns of syndicated programming and hit pause on daily late night talk shows. Studios paused all ongoing production of film and television programming. While producers shifted their focus to non-scripted programming such as reality TV and sports. Banking on advertiser's ability to adapt and consumer indifference during summer months, the higher echelon of Hollywood, who had recently successfully navigated a production shutdown due to COVID, were about to test the resolve of the WGA by banking on their IP catalogs and unscripted programming.
Advertising Proliferation
As many of us have grown to understand in recent years, sports and reality television are what move the advertising needle when it comes to network dollars. Networks are all too well aware and while scripted television helps to round out an advertising offering, it is no longer the driving force at upfronts that it once was. Networks also learned, thanks to COVID, how to make their catalog stretch. The lack of new content mixed with consumer's need for old comforts brought on a wave of nostalgia that is and will continue in the years to come.
As the summer came to a close and the consumers officially ran out of content to watch, AMPTP officially felt the pressure. Yes, prominent actors had joined the picket line, but more importantly Networks & Studios started to ramp up the pressure for new content as Fall advertising dollars were drying up outside of the NFL and MLB Postseason.
Slowly Turning the Lights Back On
The WGA Strike for television and movies has come to an end, but the repercussions of the months-long battle will be felt during the fall TV season. Two of the longest running reality shows, Survivor and The Amazing Race, have moved to ninety minute episodes this season to help fill time. The 2007-08 WGA Strike saw reality television explode, so what could be the significant changes in television this time? Reboots and reality television have been in the news, so who are the audiences for these shows and what advertisers can they bring with them?
A Man With Your Thoughts
The year was 1984, no it is not some dystopian 'future' but instead Boston. In a bar. A young, seemingly highly successful, if not in love but financially, psychiatrist walked into Cheers and the character Frasier Crane was born. Kelsey Grammer, then unknown and now a household name, would go on to play Frasier for over twenty years after an eleven season run as the radio doc from Seattle.
Today, after years of rumors, even more memes, and nineteen years after he last turned off his mic, "Frasier" makes his return to television on the Paramount+ series reboot that will find Dr Crane back in his old haunt Boston trying to reconcile his relationship with his son.
Despite the character being off air for 19 years, those talking about Frasier online are more likely to be men (1.27x) between the ages of 18 and 44. Is it possible that Frasier Crane has become cool after so many years of being TV's biggest loser? Possibly, and this audience matches up closely with those who are fans of another show with another lovable loser that is also rumored to be rebooted: The Office.
Love Bites Dog
Fans of both shows are much more likely to fall under the Netizens psychographic than the average American consumer, meaning that they prefer to do any activity online. This shouldn't come as a surprise as both shows have gained huge online followings in the years since their final episodes due to memes and social discussions around them. This propensity towards doing activities online mixed with their love of pets (1.52x) -- we are looking at you Eddie! -- is truly illuminated in how the combined audiences of The Office and Frasier shop for their pets. Subscription box services like BarkBox, or online retailers like Chewy, are popular with this audience.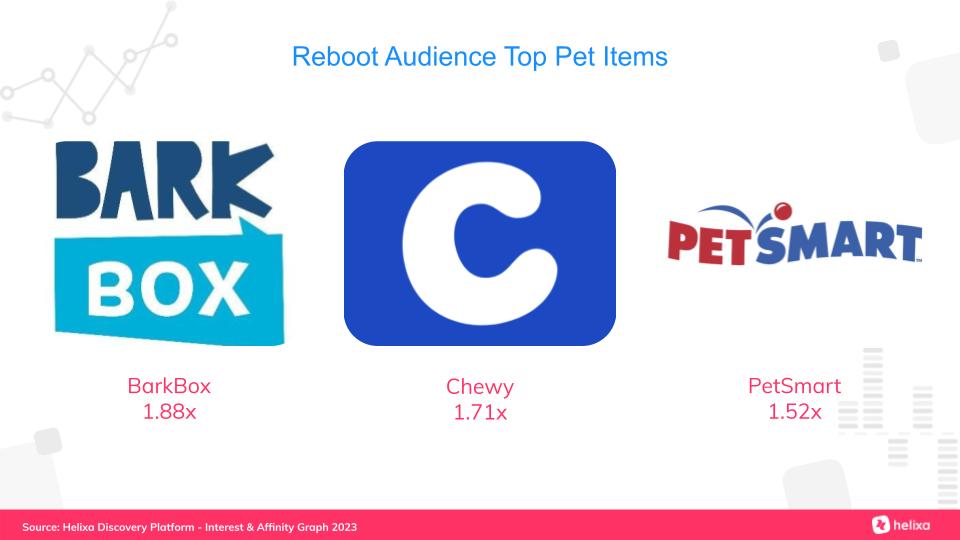 As advertisers look to find landing spots due to the dearth of content, online retailers and direct to consumer or pet centric brands should look to the Frasier reboot as an opportunity to buoy their advertising spend.
My Reality Is Flipping
The audiences for the two reality TV mainstays are the near opposite of the TV reboots: older women are more likely to engage with Survivor and The Amazing Race, with The Amazing Race audience being over the age of 55. While Survivor's audience is ten to twenty years younger, both audiences are more likely to be Money Savers as well as Beauty & Wellness Aware. Those longer episodes mean there will be more time for budget beauty & wellness products to advertise to an audience that shows an affinity for them.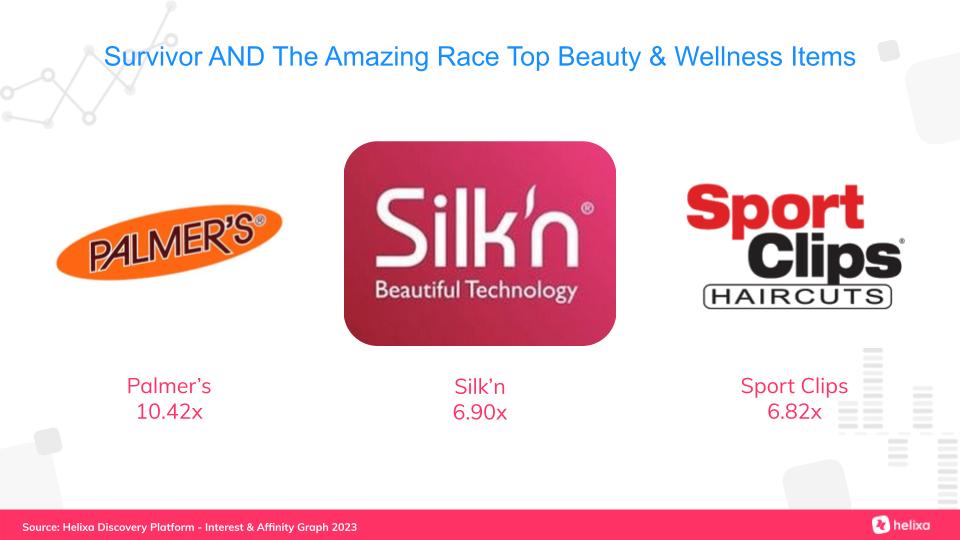 This trend continues to be seen with reality-aligned shows like those on Food Network and HGTV, as well as Game Shows. All of these shows have women-heavy audiences that offer a great opportunity for advertisers who have lost the female share on network television as a result of the writer's strike.
A New Horizon
As we all have witnessed over the last ten-plus years, television and the way we consume shows has gone through a fundamental shift. Some studios and networks have been out in front, pushing the envelope and spending big on streaming services. While others have been slow to react as they either stick to a bygone model or attempt to fit old habits into new formats. The content production pauses of both the pandemic and writer's strikes were the final straw in a complete television revolution. We believe this transformation, will lead to television executives abandon traditional Fall and Spring lineups, instead they will look to adaptable inexpensive content paired with sporting events and non-scripted programming to make up the bulk of network live television schedules. This shift will lead to scripted shows and/or movies shifting exclusively to network or studio owned streaming platforms. Consumers may access this content at their own cost, through either Ad supported or premium subscription that guarantees revenue for the studios and networks.
Live television advertising costs, and with it the ability to reach potential customers, will increase exponentially as the catalog of programming will be limited. In order for brands and advertisers to reach their target audience, the need for consumer data has never been greater. TelmarHelixa, affords users the ability to Discover new audiences, Explore audiences from all angles, and Plan the perfect media placement strategy across all channels.