One of the most interesting things I've noticed being a foreigner and a sports fan in the United States is that almost everyone that attended university really loves their Alma Mater and, therefore, really loves college sports.
Given the passionate fanbase, it always felt weird to me that student-athletes couldn't profit from their Name, Image, or Likeness (NIL), after all, they are the reason the games are so exciting. It's something that has been hotly debated and challenged over the years, and now new rules have been put in place that means those student-athletes finally can.
A Smaller Slice or A New Pie?
In a recent post, I discussed how brands are always looking for athletes to help sell their products. Advertisers having access to an expanded pool of rising talent to choose from leads to a new question about marketing in college sports. Will student-athletes take a piece of the advertising pie from their team or are they going to bring in brand new advertisers?
Let's take a look at a student-athlete and the brands their audience engages with compared to their team.
Rock Chalk Jayhawk & BBQ
If you're a fan of Texas Longhorns football, then I'm sorry for this next section, but one of the best NIL deals at the moment is Kansas Jayhawks' full-back Jared Casey inking a deal with Applebee's after he made the winning catch that beat Texas' team.
The Jayhawks also have one of the biggest basketball programs in the country and the Big 12 Player of the Year, Ochai Agbaji. Let's see how the brands that he could partner with compare to Kansas basketball.
Kansas Jayhawks Fans' Favorite Brands
1. Boulevard Brewing Company – 16.09x
2. Hy-Vee – 6.01x
3. Nike Basketball – 3.05x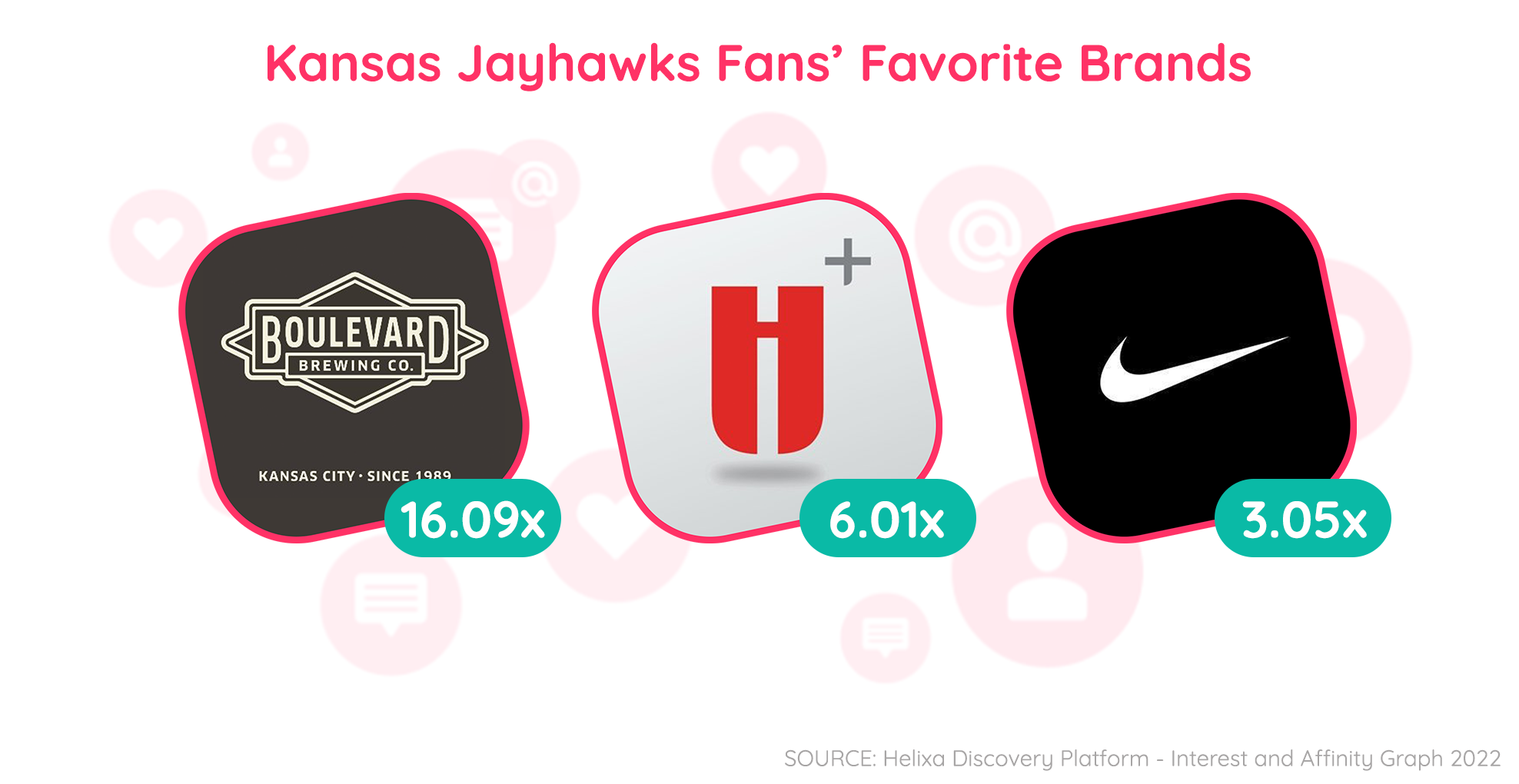 33.02% of Kansas Jayhawks fans live in Kansas, so their fans will favor more local brands than national ones. However, there is still a large portion of the Jayhawks audience living outside Kansas, so we see those national brands show up as well, such as Nike Basketball.
What about Jayhawks basketball fans who live in Kansas? Well, those local brands are much more prominent than when we look at the whole audience.
Kansas-Based Kansas Jayhawks Fans' Favorite Brands
1. Joe's Kansas City Bar-B-Que – 44.73x
2. Boulevard Brewing Company – 34.92x
3. QuikTrip – 15.70x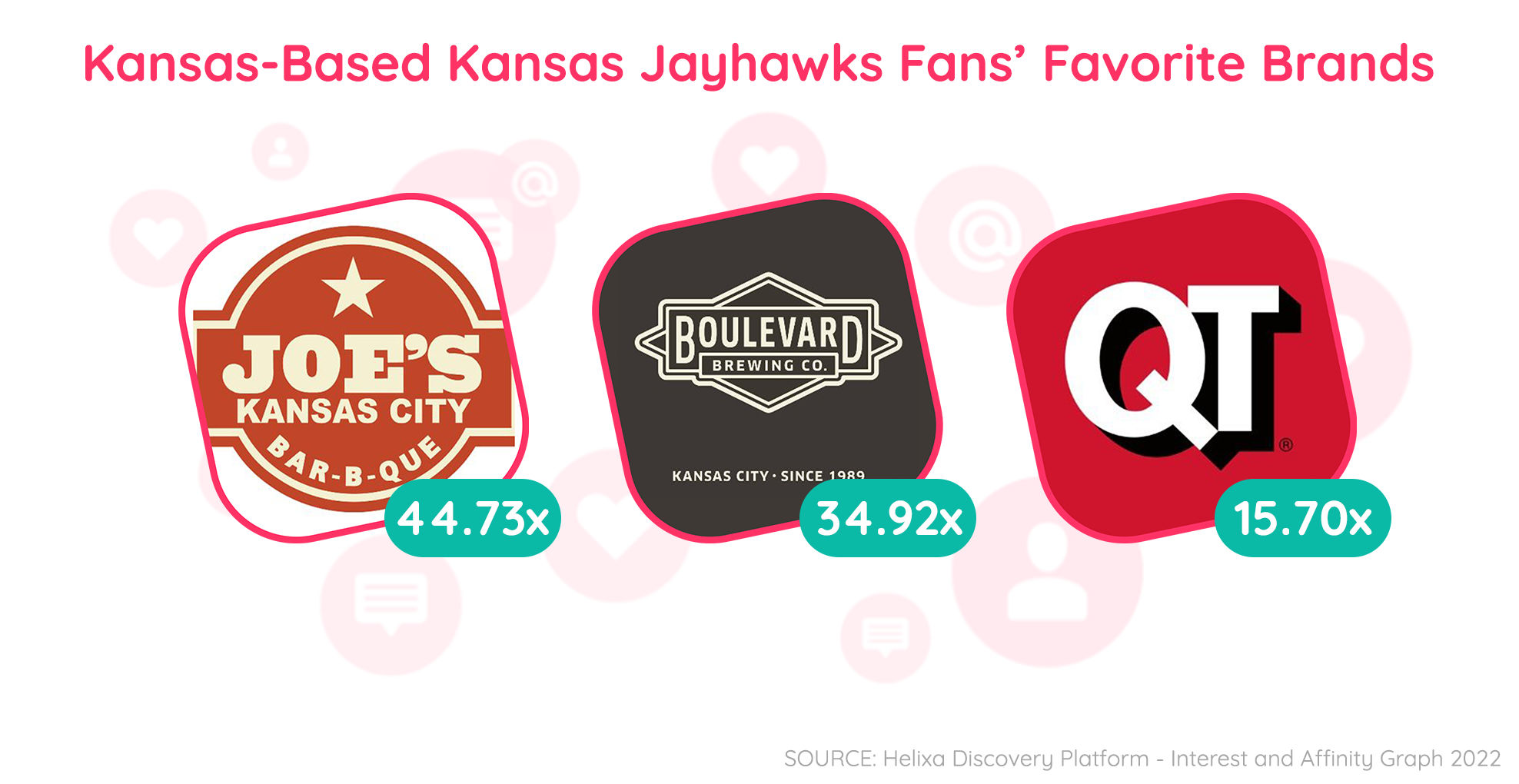 This shows that the Kansas Jayhawks could advertise on both a national and local level if they wanted to.
Next, let's take a look at Ochai Agbaji fans. I expected to see a mixture of national and local brands for Kansas basketball, but I would also expect to see Agbaji fans lean more towards local. So does it turn out that way? Funny enough (this being a Kansas audience), the three most popular brands amongst Agbaji's fans are all barbeque joints.
Ochai Agbaji Fans' Favorite Brands
1. Joe's Kansas City Bar-B-Que – 48.72x
2. Q39 – 48.03x
3. Fiorella's Jack Stack Barbecue – 37.74x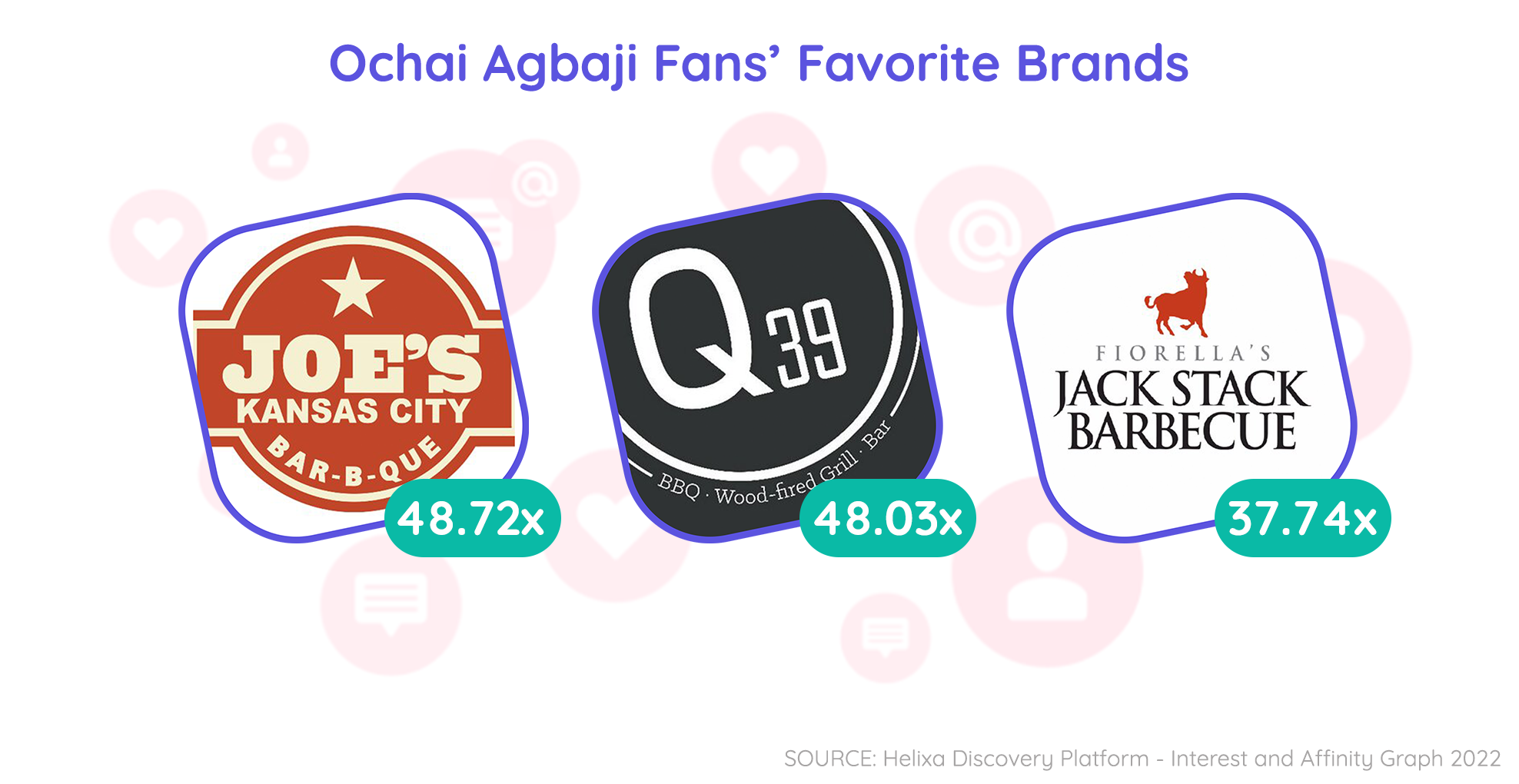 This is nothing terribly surprising as 47% of Agbaji's fans live in the state of Kansas with 27% living in the Kansas City metropolitan area. With this high percentage of his audience living near where he plays, what national brands does this audience like?
Ochai Agbaji Fans' Favorite National Brands
1. Chipotle Mexican Grill – 1.67x
2. Nike Basketball – 1.67x
3. Foot Locker – 1.52x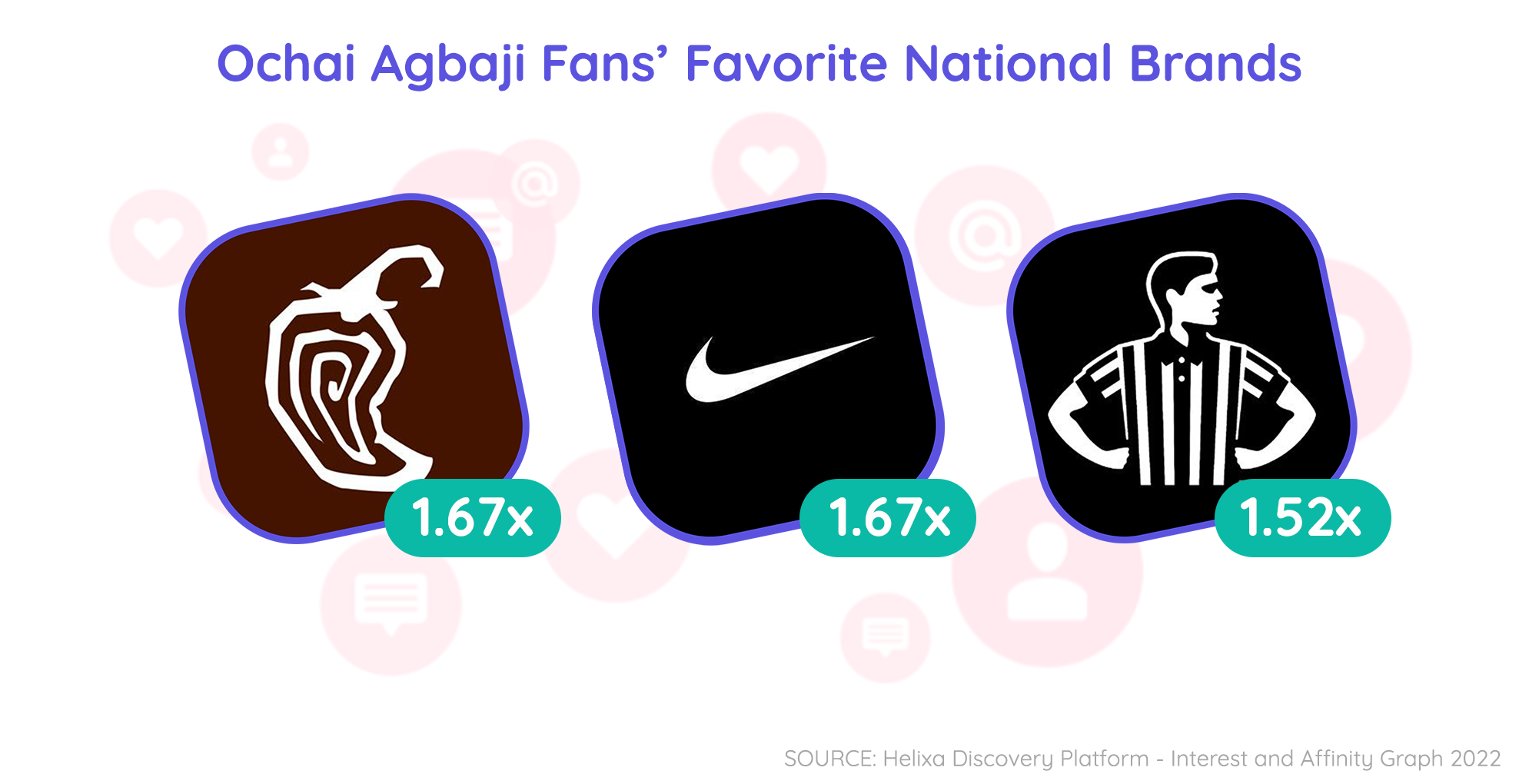 So with Ochai Agbaji now being able to use his NIL to sign advertising deals, does this add to the advertising pie or could he be taking some of his school's piece? It is definitely a bit of both. The Kansas Jayhawks basketball team has an extensive fanbase that is interested in both national and local brands, though fans of Agbaji are even more interested in those local brands.

The Jayhawks have a $14 million dollar annual contract with Adidas and it's hard to imagine a local barbeque joint coming close to that kind of commitment, no matter how good it is. So does NIL create an opportunity where the team can work with large national partners while their players can help drive local business? I think so, and that seems like a win for everyone involved.
---

Alex is a Senior Research Analyst at Helixa, where he leverages his analytics background to help clients discover and interpret surprising insights. In his free time, he can often be found trying to locate All-Dressed chips or training his phone to stop removing the letter "u" from words.