Hey, it's me again: Helixa's resident Zillennial.
Last time, we discussed Abercrombie & Fitch and Hollister's comeback strategy with Gen Z and former Millennial customers using Nostalgia Marketing.
Truth be told, they're not the only early 2000s brand using this comforting marketing strategy to make strides with Gen Z.
My Gap hoodie brings all the boys to the yard
In the early 2000s, Gap hoodies were everywhere. These beloved sweatshirts were worn by people of all ages and boldly featured the brand across the chest.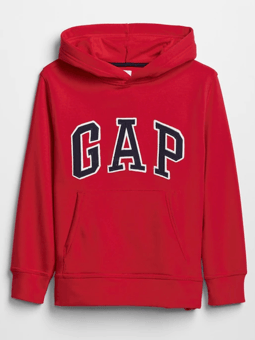 (Source: Gap Inc., 2021)
At the time, you couldn't go too far down the street (or into the mall) without spotting a hoodie with those three letters — everyone seemed to have one in their closet. But by the early 2010s, there was a backlash and this closet staple was no longer considered fashionable. I was even made fun of for wearing one in middle school (tweens are so mean). Safe to say, I never expected these basic hoodies to make a comeback...
Will Gen Z save the Gap?
In October 2020, Gap announced that they were going to close approximately 350 Gap and Banana Republic stores across North America by the end of 2023.

Just a month before Gap's announcement, Gen Z Influencer Emma Chamberlain posted a series of photos of herself wearing a vintage Gap hoodie on Instagram and: The. Internet. Went. Mad. Her photo currently has 2.4 million likes and 10K comments. My hunch: they had not lived through this trend and liked the vintage feel.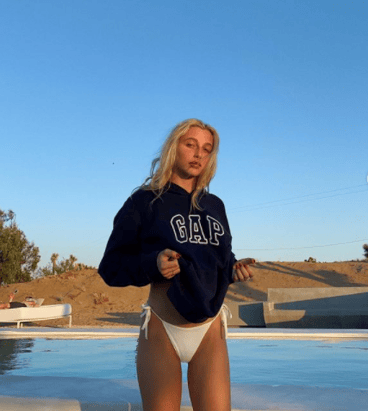 (Source: Instagram, 2020)
Emma Chamberlain's fans love social media. We used Helixa's Global Audience View (our fusion product in partnership with GWI) and found that Chamberlain's fans especially love the video-sharing app, TikTok.
Many of Chamberlain's fans went to TikTok to express their love for the Gap hoodie. Multiple TikTok users started including this vintage hoodie in 2021 trend predictions and outfit inspiration videos. TikTok user @natalielanghorne credited Chamberlain in her "2021 fashion trend alert ​​🚨 " video and claimed that people love the hoodie for its vintage look and neutral colors. According to Natalie, Gap sweatshirts are now "Nike sweatshirt's cool cousin."
Earlier this year, Gap's vintage logo hoodies were selling for upwards of $200 on resale sites like Depop and Grailed (I really should have held on to my old hoodies…). Videos tagged with the hashtag #GapHoodie now have over 8 million views on TikTok. Gap, it looks like Gen Z might just save your brand.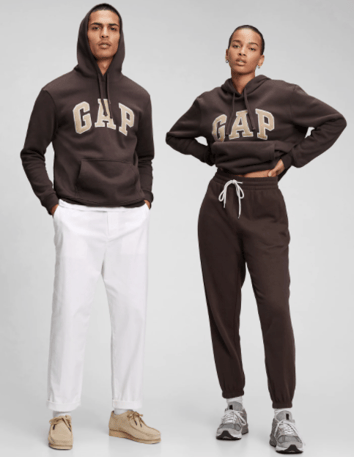 (Source: Gap Inc., 2021)
Gap realized this trend and capitalized on it in June 2021, dropping a limited-issue release of the brown logo hoodies.
Since TikTok helped the brand become relevant again, they also launched a two-week partnership called the "Gap Hoodie Color Comeback" competition on the app. TikTok users were able to vote through interactive polls on posts from Gap and select TikTok creators. The color that got the most votes is currently being sold in stores this fall.
I was curious to learn more about Gen Z's interests and where Gap could also reach them. We used Global Audience View and found that Gen Z is almost 3x more likely to use the social media app Snapchat. This app is known for its fun and outrageous filters and lenses.
Next, we looked at Gen Z Gap Fans' favorite features on Snapchat. This generation is almost 3x more likely to use filters/geofilters, create a story, and use a lens. To engage more of Gen Z, Gap could create a branded filter or lens featuring their popular vintage hoodie.
Welcome to the stage: Yeezy Gap
Filters aren't the only way to grab the attention of this younger audience. Hoodies are a staple of streetwear and as more and more fashion brands jump onto the streetwear bandwagon, Gap likely saw an opportunity that also rang true to their hoodie roots — enter Yeezy Gap.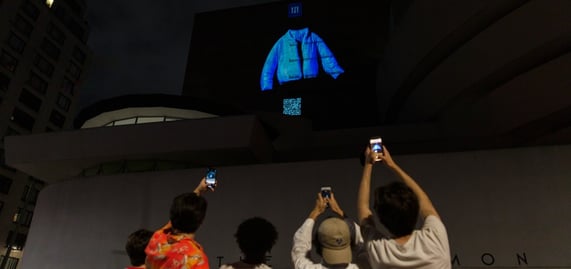 (Source: Gap Inc., 2021)
Ye's (FKA Kanye West) popular apparel brand, Yeezy, and Gap announced their decade-long partnership in June 2020. A year later, they launched the limited-release $200 sky-blue "round jacket" for pre-order. The launch took place in New York, Los Angeles, and Chicago where you could find floating projections of the jacket and the QR code to order it — the drop was but it quickly made headlines. But is Yeezy and Gap a strategic partnership or will the headlines eventually fizzle out? Let's take a look at Kanye West's audience.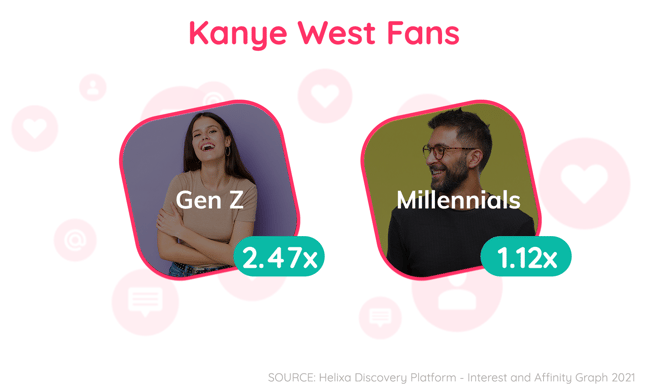 West is regarded as one of the best rappers of all time but is also known for being outspoken and controversial. According to our platform, West is especially loved by his Gen Z fans. But do Gen Z Gaps fans like Kanye and Yeezy? Yes, yes they do.
So how can the Gap attract more of Kanye West's Gen Z fans? Looking at Kanye West's Gen Z fans' fashion and shopping lifestyles, they are three times more likely to be Sporty Stylists and twice as likely to be Fashion Enthusiasts.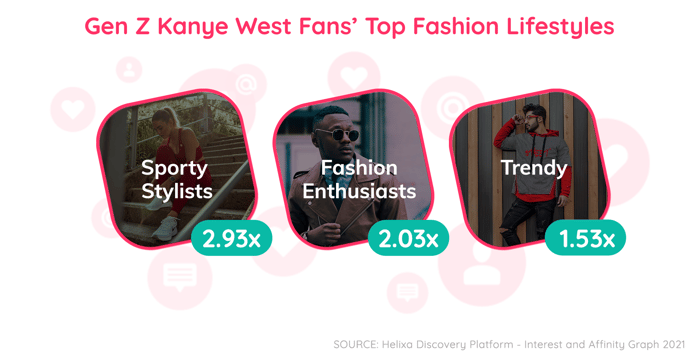 Last month, Yeezy Gap released their second product, Yeezy Gap Hoodies, in six different colors. Like their first product drop, they released the hoodies with no warning and they sold out in less than 24 hours. These hoodies went for just $90, making his clothes more accessible to Yeezy fans who cannot afford the brand's usual high prices.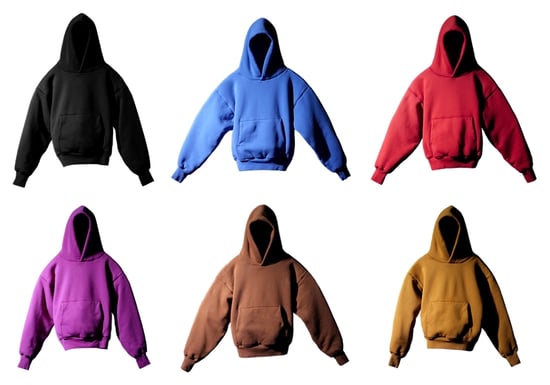 (Source: Gap Inc., 2021)
If Yeezy Gap continues to release more sporty clothing and streetwear, I think the younger Kanye West fans will begin to shop at the Gap more. According to Atlanta designer Daryl Mapp, West's vision is like an architect's and he adds his own perspective to top American brands. Despite his controversies, and whether or not you're a fan of Ye, his fashion influence is undeniable. He pushes the envelope on any project he touches and I for one look forward to seeing his next move with the Gap.
Victoria's Secret: Take 2
In the early 2000s, Victoria's Secret (VS) was seen more as a lifestyle brand than just a place to buy fancy underwear. Like the classic Gap hoodie, you couldn't go too far without seeing someone wearing their signature "PINK" logo. Their cropped sweats were peak Y2K fashion.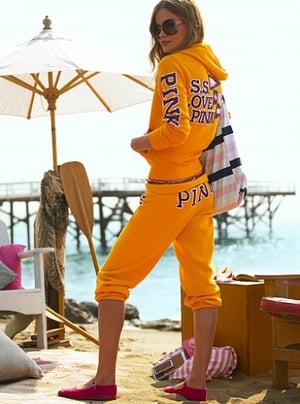 (Source: My Closet, 2012)
However, similar to Abercrombie & Fitch, as their customers grew up and evolved, the brand increasingly came across as more cringe than "sexy". The stores were sexy, flirty, and the walls were covered with size 0 models in lingerie. Everything about their apparel screamed, "designed to please heterosexual men" not "designed with women or inclusivity in mind."
From 1995 to 2018, VS was known for hosting their annual fashion show featuring their VS Angels models wearing large ornate wings and elaborate lingerie costumes. I remember watching the fashion show for the first time and admittedly bought into the overproduced fantasy they were selling.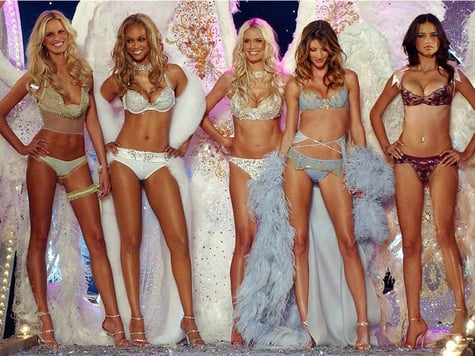 (Source: Insider, 2021)
And most would agree, in the 2000s the VS fashion show was wildly popular and received high ratings and viewership. But by 2018, the show lost its appeal and relevancy, suffering the worst ratings in its broadcast history. Women were no longer interested in unrealistic beauty standards, they wanted to see real women that they could relate to. The fantasy had become toxic.
To regain their lost customers and move forward, VS needed a bit of a refresh. To that effect, VS's CMO Ed Razek retired from the company in 2019 after he made many controversial comments and refused to make the show more inclusive of the LGBTQ community. Leslie Wexner, the CEO of the brand's parent company, L Brands, resigned in March 2021. Then, VS eventually split from L Brands and became a separate public entity.

VS's new CEO Martin Waters admitted: "that we got it wrong" and expressed his commitment to shifting the brand's focus from what "he wants" to what "she wants." The VS Angels are no more; they now have a group of spokeswomen called the "VS Collective." The VS Collective is a diverse group of eight women who VS hopes will support, celebrate, and inspire.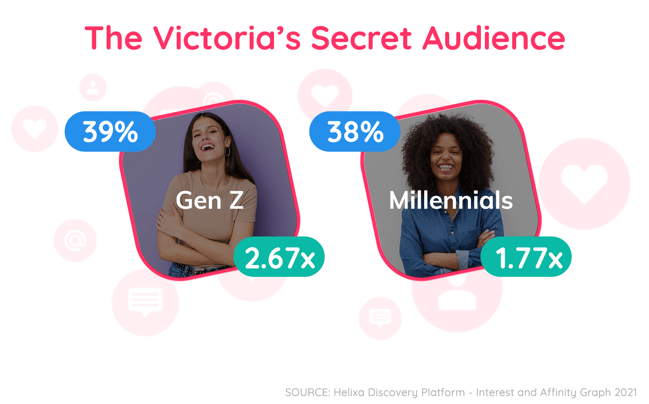 Today, Gen Z and Millennials make up roughly 80% of the VS audience. Both generations are about twice as engaged with the brand compared to the average US population. VS is still the leading lingerie company in the U.S. but other lingerie brands have been catering to size inclusion and gender diversity for much longer. Savage X Fenty and Aerie have been prioritizing inclusivity for years now. I combined both generations and found that they prefer these two brands over VS.
VS has a lot of work to do but they're visibly making strides to separate themselves from their problematic past. But not everything in the past is negative, VS could leverage nostalgia marketing by reintroducing previously popular designs in a way that is representative of their customers today. TikTok went crazy last year for a black glitzy slip dress sold by designer Mirror Palais. This year, VS came out with their own version of the slip dress and it screams early 2000s vibes with a more inclusive approach.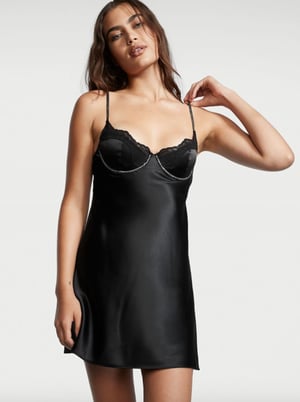 (Source: Style Caster, 2021)
Gen Z is over it
Gen Z holds brands socially responsible and craves authenticity that speaks to them. They love the creativity that Kanye is bringing back into the Gap brand. And they could also love VS again if the brand keeps remaking itself to match the new sensibilities of these young consumers.
Y2K fashion is having a moment, making nostalgia marketing a powerful strategy because it provides comfort in moments of uncertainty. In our first blog of the series, we saw how Abercrombie & Fitch and Hollister Co. began using nostalgia marketing with their Gen Z and Millennial audiences. Gap and Victoria's Secret also have an opportunity to leverage their historical standing to regain relevancy in the market. The challenge is to do so strategically, and approach new consumers in an authentic and inclusive way while tapping into their childhood memories. That's where tools like Helixa can help, by tapping into how your audience lives and what they care about.

I hope you've enjoyed my journey into nostalgia marketing. Revisiting Y2K trends brought me back to simpler times when we only had LG flip phones. But hey who knows? Gen Z might bring those back next 😉
---

Bridget is the Marketing Coordinator at Helixa, where she manages social media, video content, and champions company culture. In her free time, she loves listening to musical theatre podcasts, cooking vegan food, and spending way too much time on TikTok.